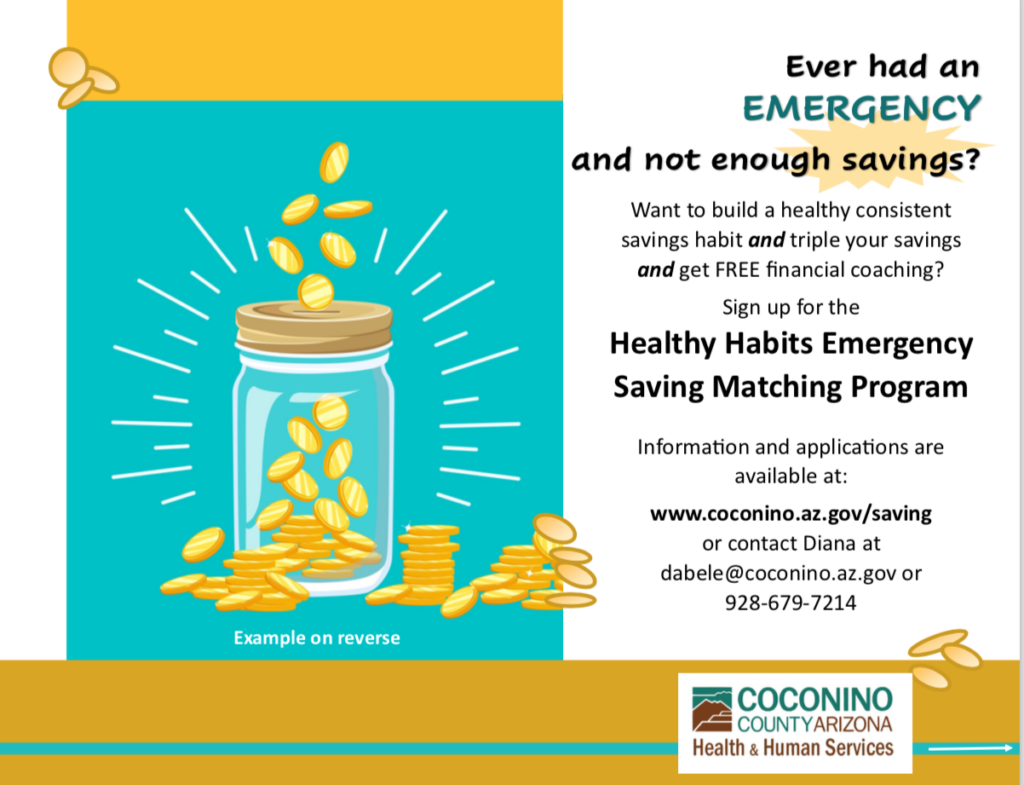 COCONINO COUNTY — Coconino County Health and Human Services (CCHHS) is launching a program that matches people's savings while helping them improve their financial habits.
The Healthy Habits Emergency Saving Matching program provides free financial education/coaching and matches participants' saving over nine months. The longer participants save, the larger the matching ratio becomes – giving participants the opportunity to triple their savings from $225 to $675.
"While we know that saving right now can be difficult, current surveys show that people are shifting their focus from spending to saving. This program can help people increase their saving while improving their financial habits," said Michele Axlund, CCHHS Office of Community and Career Services Deputy Director.
Space is limited and low-income applicants will receive priority. Applications are due by noon on May 28, 2020. Visit www.coconino.az.gov/saving for more information and application materials or call 928.679.7214.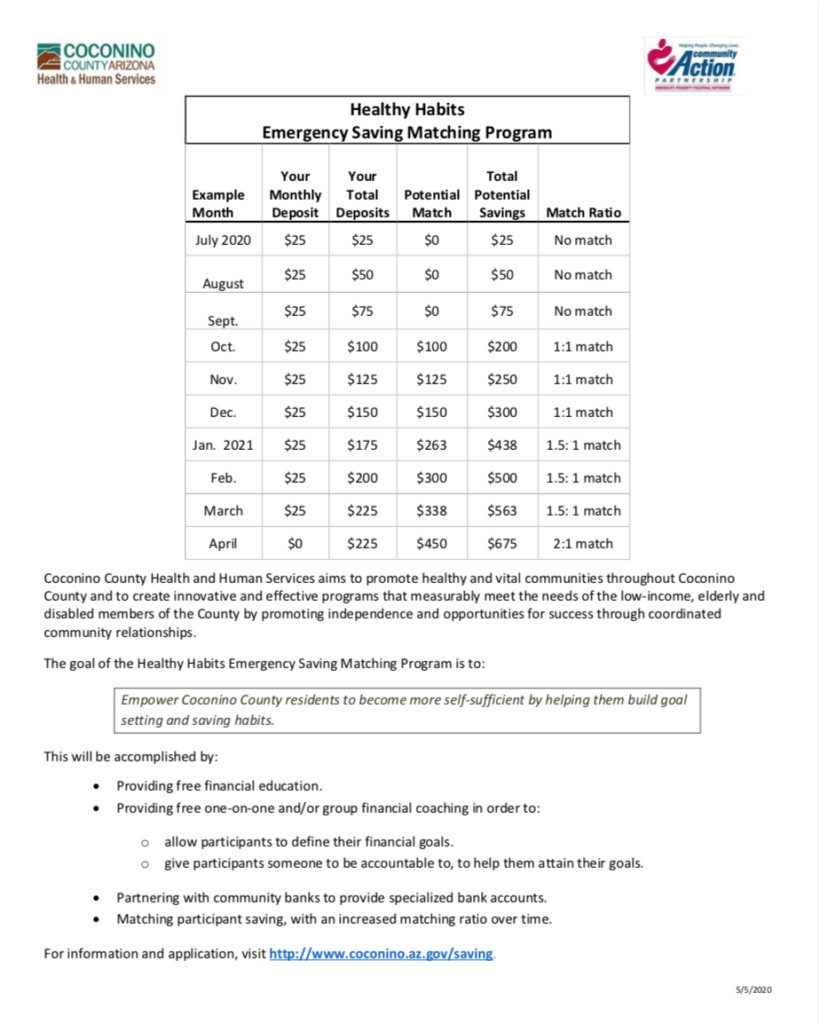 ***
Los Servicios de Salud y Humanos del Condado de Coconino lanzan el Programa de adaptación de Saludables para el Ahorro de Emergencia
CONDADO DE COCONINO — Los Servicios de Salud y Humanos del Condado de Coconino (CCHHS) está lanzando un programa para igualar los ahorros de las personas mientras les ayuda a mejorar sus hábitos financieros.
El programa de adaptación para el ahorro de emergencia ofrece educación financiera gratuita/entrenamiento y combina el ahorro de los participantes durante nueve meses. Cuanto más tiempo ahorren los participantes, mayor será la proporción de comparación – dando a los participantes la oportunidad de triplicar sus ahorros de $225 a $675.
"Aunque sabemos que ahorrar ahora mismo puede ser difícil, las encuestas actuales muestran que la gente está cambiando su enfoque del gasto al ahorro. Este programa puede ayudar a las personas a aumentar su ahorro y a mejorar sus hábitos financieros", dijo Michele Axelund, Subdirectora de la Oficina de Servicios comunitarios y profesionales de CCHHS.
El espacio es limitado y los solicitantes de bajos ingresos recibirán prioridad. Las solicitudes deben presentarse al mediodía del 28 de mayo de 2020. Visita www.coconino.az.gov/saving para más información y materiales de aplicación o llame al 928.679.7214.
Category: Child Welfare, Health, Programs, Resources