Eviction prevention for Coconino County residents behind on rent and utilities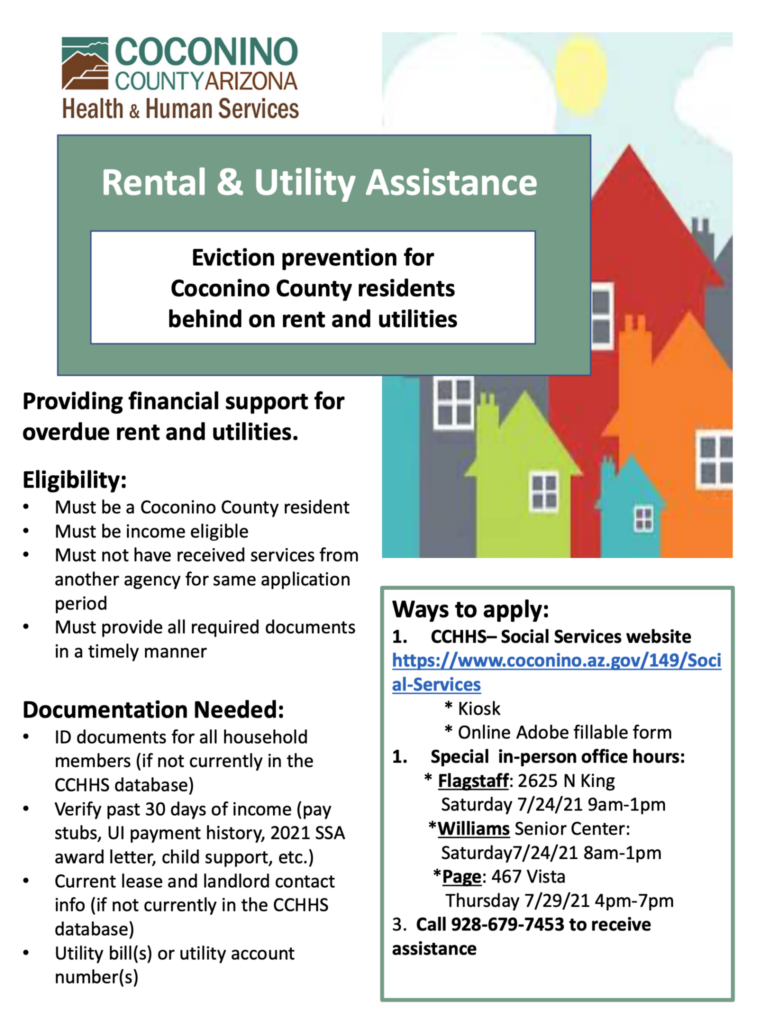 By Coconino County Health & Human Services
Cconino County Health & Human Services announces Rental & Utility Assistance.
Providing financial support for overdue rent and utilities.
Eligibility:
Must be a Coconino County resident
Must be income eligible
Must not have received services from

another agency for same application

period

Must provide all required documents

in a timely manner

Documentation Needed:
ID documents for all household members (if not currently in the CCHHS database)
Verify past 30 days of income (pay stubs, UI payment history, 2021 SSA award letter, child support, etc.)
Current lease and landlord contact info (if not currently in the CCHHS database)
Utility bill(s) or utility account number(s)

Ways to apply:
1. CCHHS– Social Services website https://www.coconino.az.gov/149/Social-Services

* Kiosk

* Online Adobe fillable form

2. Special in-person office hours:

* Flagstaff: 2625 N King, Saturday 7/24/21 9am-1pm

*Williams Senior Center: Saturday 7/24/21 8am-1pm

*Page: 467 Vista, Thursday 7/29/21 4pm-7pm 3.