BIG SING! FLAGSTAFF brings the community together through song in its first ever community sing. The Master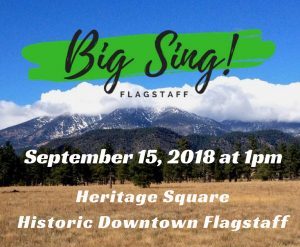 Chorale of Flagstaff and 8 other community and school choirs will lead the audience on Heritage Square in a huge group sing-along of familiar music. This Land is Your Land, Hey Jude, and Lean on Me are just some of the songs that the audience will all be singing together (and there will be a few dance moves, too!).
The local choral organizations performing and leading the audience in the first annual BIG SING! FLAGSTAFF are the Master Chorale of Flagstaff, the NAU Choral Union, the Threshold Choir, the Flagstaff High School Choirs, the Flagstaff Youth Chorale, the Northland Preparatory Choirs, Flagstaff Sings, Sedona's Red Rockapella and the Mountain Tremors.
This family friendly community event is perfect to start the Fall season. Bring your friends and kids, and enjoy an afternoon of singing.
ADMISSION INFO
Free Admission
When: Saturday Sept 15, 2018
01:00 pm – 03:00 pm
Where: Heritage Square
Six East Aspen Avenue
Flagstaff, AZ 86002
Category: Events