BBBSF is HIRING! If you want to join us in our mission to help children succeed by matching them with appropriate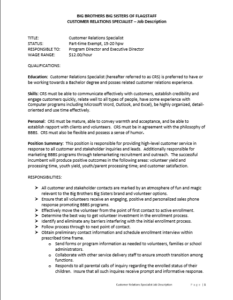 adult mentors, consider joining our team! Currently looking for a Customer Relations Specialist, PT at 15-20hpw.
Please view the job description and email Kelly@flagstaffbigs.org with your letter of interest and resume to receive an application.
Education:  Customer Relations Specialist (hereafter referred to as CRS) is preferred to have or be working towards a Bachelor degree and posses related customer relations experience.
Skills: CRS must be able to communicate effectively with customers, establish credibility and engage customers quickly, relate well to all types of people, have some experience with Computer programs including Microsoft Word, Outlook, and Excel), be highly organized, detailoriented and use time effectively.
Position Summary:  This position is responsible for providing high-level customer service in response to all customer and stakeholder inquiries and leads.  Additionally responsible for marketing BBBS programs through telemarketing recruitment and outreach.  The successful incumbent will produce positive outcomes in the following areas: volunteer yield and processing time, youth yield, youth/parent processing time; and customer satisfaction.
Category: General