Successful Entrepreneurship: Begin your business and be your own boss!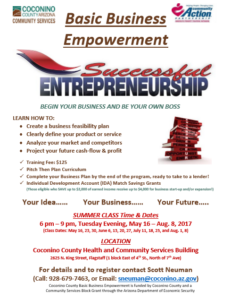 Learn how to:
Create a business feasibility plan
Clearly define your product or service
Analyze your market and competitors
Project your future cash-flow and profit
Training Fee: $125
Pitch Then Plan Curriculum
Complete your Business Plan by the end of the program, ready to take to a lender!
Individual Development Account (IDA) Match Savings Grants

Those eligible who SAVE up to $2,000 of earned income receive up to $4,000 for business start-up and/or expansion!
Your idea…your business…your future!
Summer Class Time & Dates
6 – 9pm, Tuesday evenings, May 16 – August 8, 2017
Location: Coconino County Health and Community Services Building
2625 N. King St
Flagstaff, AZ 86004
For details and to register contact Scott Neuman at (928) 679-7463 or sneuman@coconino.az.gov.
For more information, follow the link here.