Presented by Active Kids at Fort Tuthill County Park, Flagstaff AZ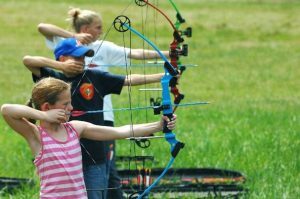 Learn the basics of bows and arrows, using equipment specifically designed for the beginning archer.
This introductory program emphasizes understanding the terminology and equipment, shooting safety, and developing basic archery skills. Most importantly, there will be plenty of hands-on fun! No previous archery experience necessary.
ADMISSION INFO
$22 for Adults/$14 for Youth.
INDIVIDUAL DATES & TIMES
Aug 11, 2018 at 09:00 am – 01:00 pm (Sat)
Sep 22, 2018 at 09:00 am – 01:00 pm (Sat)
Where: Fort Tuthill County Park
Flagstaff, AZ 86005