It's FUSD's #1 Indian Education Support Program Back to School Night! Featuring: community agencies and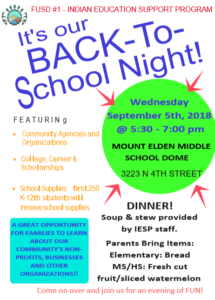 organizations; college, career & scholarships; school supplies: first 250 K-12th students will receive school supplies!
A great opportunity for families to learn about our community's non-profits, businesses and other organizations!
Dinner will be served by IESP staff.
Parents bring items:
Elementary – Bread
MS/HS – Fresh cut fruit/sliced watermelon
When: Wednesday, September 5
5:30 – 7pm
Where: Mount Elden Middle School Dome
3223 N 4th St