Frank Moraga
Frank Moraga's Latest Posts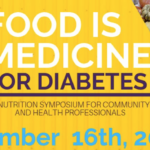 By Native Americans for Community Action FLAGSTAFF — A "Food is Medicine for Diabetes: A Nutrition Symposium for Community and Health Professionals" will be held from 7:15 a.m. to 4:45 p.m. Saturday, Nov. 16 at Coconino High School, 2801 n. Isabel St., Flagstaff. View Map Register here Community and Health Professionals are welcome to attend both […]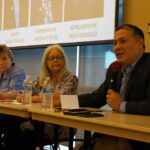 This year's Arizona Grandparent Ambassadors (AZGA) Summit was a huge success, with nearly 200 kinship family members in attendance.
Every September, AZGA invites families to the meeting to get to know one another and discuss kinship care issues, hold a dialogue with legislators during a panel discussion, learn about community support services and work on public policies they want lawmakers to support in the upcoming legislative session, which begins in January.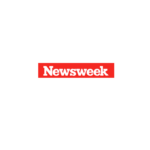 A new report from the U.S. Department of Education's National Center for Educational Statistics (NCES) finds that charter school and public school students have the same academic performance in testing conducted at the fourth- and eighth-grade level.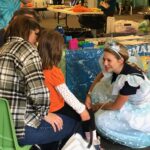 A record of more than 500 visitors took part in the Flagstaff's Festival of Science, CCC&Y's 9thAnnual Early Childhood Fair on Sept. 28 at Flagstaff High School.
The theme of the event was Full "S.T.E.A.M." Ahead.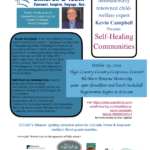 Hundreds of tickets have gone but we still have room. 
RSVP now for Kevin Campbell's presentation on "Self-Healing Communities," from 9 a.m. to 4 p.m. Tuesday, Oct. 29 at the High Country Conference Center, 201 W. Butler Ave., Flagstaff.
Tickets are $30 to $45. Click here to register.
We are excited to announce this has attracted statewide attention including local, state and federal representation as well as a policy analyst.  Ticket sales end in 2 weeks on Oct 13. 

A new five-year data snapshot from the Annie E. Casey Foundation finds that Arizona is tied for fifth highest in the nation in the percentage of children living in concentrated poverty. While Arizona's percentage of kids living in concentrated poverty dropped slightly, one in five kids in our state still lives in poor neighborhoods, with children of color and children in rural Arizona far more likely to live in areas of concentrated poverty.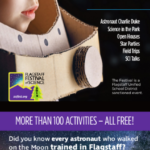 Coconino Coalition for Children & Youth's Early Childhood Fair on Sept. 28 is included in festival's passport. FLAGSTAFF — The Flagstaff Festival of Science continues through Sunday, Sept. 29 with a variety of events through the region. Some of the events include: Roving on Mars Ken Herkenhoff, Ph.D., USGS 5 – 6 p.m. Wednesday, Sept. […]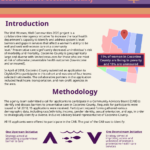 The Well Women, Well Communities 2020 project is a collaborative interagency initiative 'to increase the local health department's capacity to identify and address system's level barriers and gaps in services that affect a woman's ability to be well and seek well-woman care at a community level.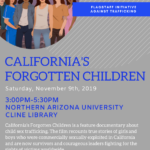 he Flagstaff Initiative Against Trafficking will present a screening of "California's Forgotten Children" from 3 to 5:30 p.m. Saturday, Nov. 9 at Northern Arizona University's Cline Library.