Frank Moraga
Frank Moraga's Latest Posts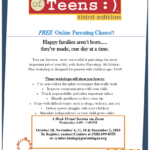 CPLC Parenting Arizona will host a free six week online Active Parenting of Teens Class, from 6 to 7 p.m. Wednesday, Nov. 11, 18, and Dec. 2.
These workshops will show you how to:
* Use non-violent discipline techniques that really work
* Improve communication with your child
* Teach responsibility and other important values
* Handle problems as they come up
* Cope with difficult topics such as drugs, violence, and sex
* Defuse power struggles with your children
* Stimulate independence as your child grows older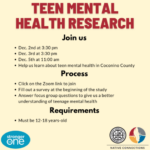 As we continue through this pandemic, the Stronger As One Coalition is committed to supporting everyone in our community to take care of all of our mental health and wellbeing in the face of elevated stress and uncertainty. Young people in our community have experienced more upheaval than nearly any other group, with disruptions to every facet of life. For that reason, Stronger as One and NACA's Native Connections are hosting Youth Focus Groups on the impact of COVID-19 on mental health and wellbeing of youth in our community.  
Youth who participate are helping inform our work to support them during this difficult time and will receive a gift card to either Dutch Bros or Sprouts!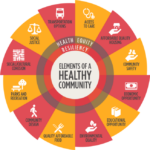 Join us on December 3rd from 12:00 p.m. – 1:00 p.m.for a robust discussion panel featuring Arizona Town Hall Background Report authors on the topic of "Creating Vibrant Communities."
Moderated by Jon Ford, Director of Strategic Initiatives for Vitalyst Health Foundation, confirmed speakers include: 
Bob England, Former Health Director, Pima and Maricopa Counties 
Kelly Eckhoff, Co-Founder and Principal Consultant, Kominote Community Consulting 
Adrienne Udarbe, Founding Director, Pinnacle Prevention 
Joan Timeche, Executive Director, Native Nations Institute 
Stephanie Parra, Executive Director, All In Education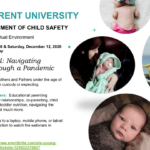 Workshops: Child Development, Dads Matter Too, The Power of Play in Early Childhood, Healthy Relationships, Injury Prevention, Fatherhood, and more.
Resource Fair: Virtual resources will include WIC, home visitor programs, childcare information, DES services, nutrition information, and more.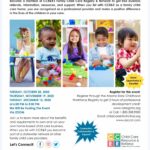 Child Care Resource & Referral will present a Family Child Care Registry & Networking Orientation from 6 to 8 p.m. Dec. 15 via Zoom.
Register through the Arizona Early Childhood Workforce Registry to get two hours of professional development credit by going to www.azregistry.org, calling 1-800-308.9000 or sending an email to childcareinfo@cfraz.org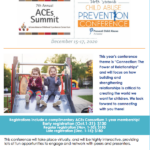 This year's conference theme is "Connection: The Power of Relationships" and will focus on how building and strengthening relationships is critical to creating the world we want for children. We look forward to connecting with you there!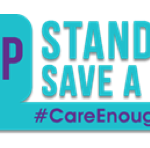 Students throughout Arizona will join together in the first virtual conference to Speak Up, Stand Up and Save Lives. Now in its fifth year, the event will run from 9:00 a.m. – 2:30 p.m. on January 19, 2021 and will inspire attendees to create lasting ways to combat bullying, depression and suicide at their schools. The conference is free of charge thanks to partnerships and donations and is open to all schools in Arizona.  
To register, visit the website at www.speakstandsave.com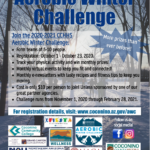 oin the 2020-2021 Coconino County Health and Human Services Aerobic Winter Challenge:
Form teams of 5-10 people.
Registration: October 1 – October 23, 2020.
Track your physical activity and win monthly prizes!
Monthly virtual events to keep you fit and connected!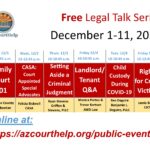 From virtual activities from toddlers through teens at the Downtown and East Flagstaff Public Library, to family-friend Summer and Fall events, the Flagstaff region has it all. Please click on flyers below for the latest information.