In honor of Asteroid Day on June 30, 2016, Meteor Crater will host an all-day celebration featuring arts and crafts, a costume contest, an educational movie screening and other fun activities the whole family can enjoy.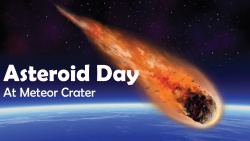 Established as the result of the 1908 Tunguska event in Siberia, the most recent large asteroid impact to hit earth, Asteroid Day is intended to raise awareness of asteroids and develop solutions to protect people and the planet from future asteroid impacts. For more information, visit: www.asteroidday.org
To show its support for Asteroid Day, Meteor Crater will host a full day of events aimed at educating the public about asteroids in a family-fun environment from 8 a.m.-7 p.m. on Thursday, June 30, 2016.
From 8 a.m. to 11 a.m., attendees can build their own 3D model asteroid and earth in the arts and crafts center. Then, from 11 a.m. to 12 p.m., guests can put on their best space-themed costume and participate in the Cosmic Crater Costume Contest. The top three winners will be announced at 12 p.m. with prizes including a $100 visa gift card, a $50 visa gift card and a Meteor Crater gift basket loaded with great merchandise from the gift shop.
From 1 p.m. to 4 p.m., families and children of all ages can create a "What Asteroid Day Means to Me," illustration while enjoying an afternoon snack. The top illustrations will win fun prizes to take home.
In order to education the public about asteroids and to support Asteroid Day and its mission, Meteor Crater will also host a screening of 51 Degrees North, which can be observed in the movie theater throughout the day.
Admission to Meteor Crater is $18 for adults, $9 for juniors and free for children five and under. Meteor Crater is located at I-40, exit 233 on Meteor Crater Rd, Winslow, AZ 86047. For more information, visit: http://meteorcrater.com/
About Meteor Crater
Meteor Crater is the world's best preserved meteorite impact site on Earth. Located just minutes from Interstate 40 in Northern Arizona near Winslow and 35 miles east of Flagstaff, Meteor Crater is the breath-taking result of a collision between an asteroid traveling 26,000 miles per hour and planet Earth approximately 50,000 years ago.
Meteor Crater is an international tourist venue with outdoor observation trails, air conditioned indoor viewing, wide screen Movie Theater, Interactive Discovery Center, unique gift and rock shop, and Astronaut Memorial Park at the Visitor Center located on the crater rim. For more information, visit: http://meteorcrater.com/
Admission:
$18 for adults
$9 for juniors
Free for children 5 and under