ASIST 11 Applied Suicide Intervention Skills Training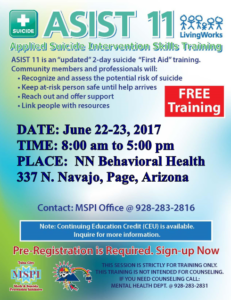 ASIST 11 is an "updated" 2-day suicide "First-Aid" training. Community members and professionals will:
Recognize and assess the potential risk of suicide
Keep at-risk person safe until help arrives
Reach out and offer support
Link people with resources
Date: June 22-23
Time: 8am – 5pm
Place: NN Behavioral Health
337 N. Navajo
Page, AZ
Contact: MSPI Office @ (928) 283-2816
PRE-REGISTRATION IS REQUIRED. SIGN UP NOW.
THIS SESSION IS STRICTLY FOR TRAINING ONLY. THIS TRAINING IS NOT INTENDED FOR COUNSELING. IF YOU NEED COUNSELING, CALL MENTAL HEALTH DEPARTMENT @ (928) 283-2831
Also please attend safeTALK on June 13, 2017 – Help someone when they need it most.
Suicide is preventable. Anyone can make a difference.
Attend the half-day safeTALK training program and quickly learn four basic steps to connect people at risk of suicide to life-saving resources. Both professionals and members of the general public save lives with safeTALK training. safeTALK is open to anyone 15 or older.
When: June 13
1 – 5pm
Where: Broadway/Gap Chapter House
To register or inquire call MSPI at (928) 283-2816
Course is FREE to the public
Category: Educational Opportunities, Events, Health, Programs, Resources