ADE Early Childhood Infant and Toddler Professional Development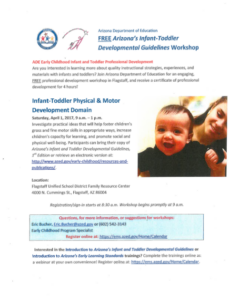 Are you interested in learning more about quality instructional strategies, experiences, and materials with infants and toddlers? Join Arizona Department of Education for an engaging, FREE professional development workshop in Flagstaff, and receive a certificate of professional development for 4 hours!
Infant-Toddler Physical and Motor Development Domain
Saturday, April 1, 2017, 9am – 1pm
Investigate practical ideas that will help foster children's gross and fine motor skills in appropriate ways, increase children's capacity for learning, and promote social and physical well-being. Participants can bring their copy of Arizona's Infant and Toddler Developmental Guidelines, 1st Edition or retrieve an electronic copy at http://www.azed.gov/early-childhood/resources-andpublications/.
Location
Flagstaff Unified School District Family Resource Center
4000 N. Cummings St.
Flagstaff, AZ 86004
Registration/sign-in starts at 8:30am. Workshop begins promptly at 9am
Category: Educational Opportunities, Events, Health, Resources