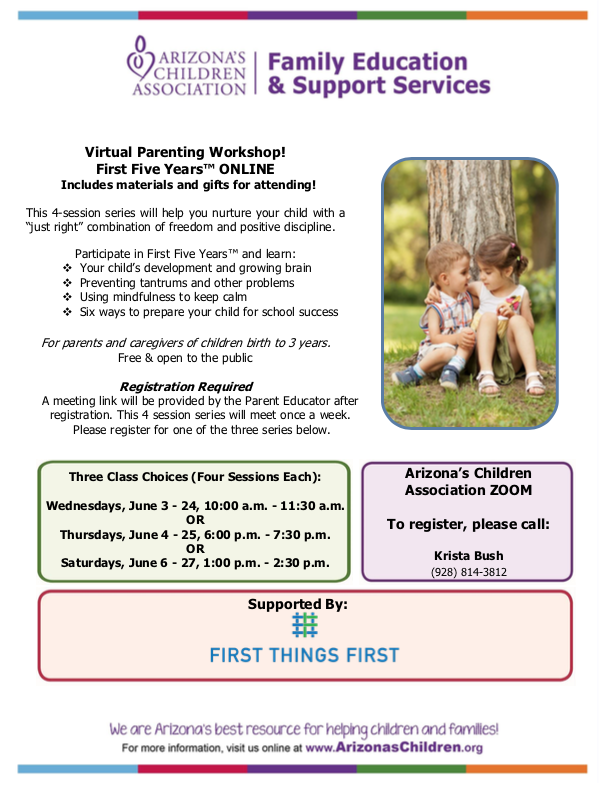 By the Arizona Children's Association
COCONINO COUNTY — The Arizona's Children Association will present Virtual Parenting Workshop: "First Five Years ONLINE" starting June 3
This 4-session series will help you nurture your child with a "just right" combination of freedom and positive discipline.
Participate in First Five YearsTM and learn:
Your child's development and growing brain
Preventing tantrums and other problems
Using mindfulness to keep calm
Six ways to prepare your child for school success
For parents and caregivers of children birth to 3 years. Free & open to the public
Registration Required
A meeting link will be provided by the Parent Educator after registration. This 4 session series will meet once a week.
Please register for one of the three series below.
Includes materials and gifts for attending!
Three Class Choices (Four Sessions Each):
Wednesdays, June 3 – 24, 10:00 a.m. – 11:30 a.m. OR
Thursdays, June 4 – 25, 6:00 p.m. – 7:30 p.m. OR
Saturdays, June 6 – 27, 1:00 p.m. – 2:30 p.m.
Supported By: First Things First
Arizona's Children Association ZOOM
To register, please call:
Krista Bush
(928) 814-3812
Category: Child Welfare, Education, Programs, Resources