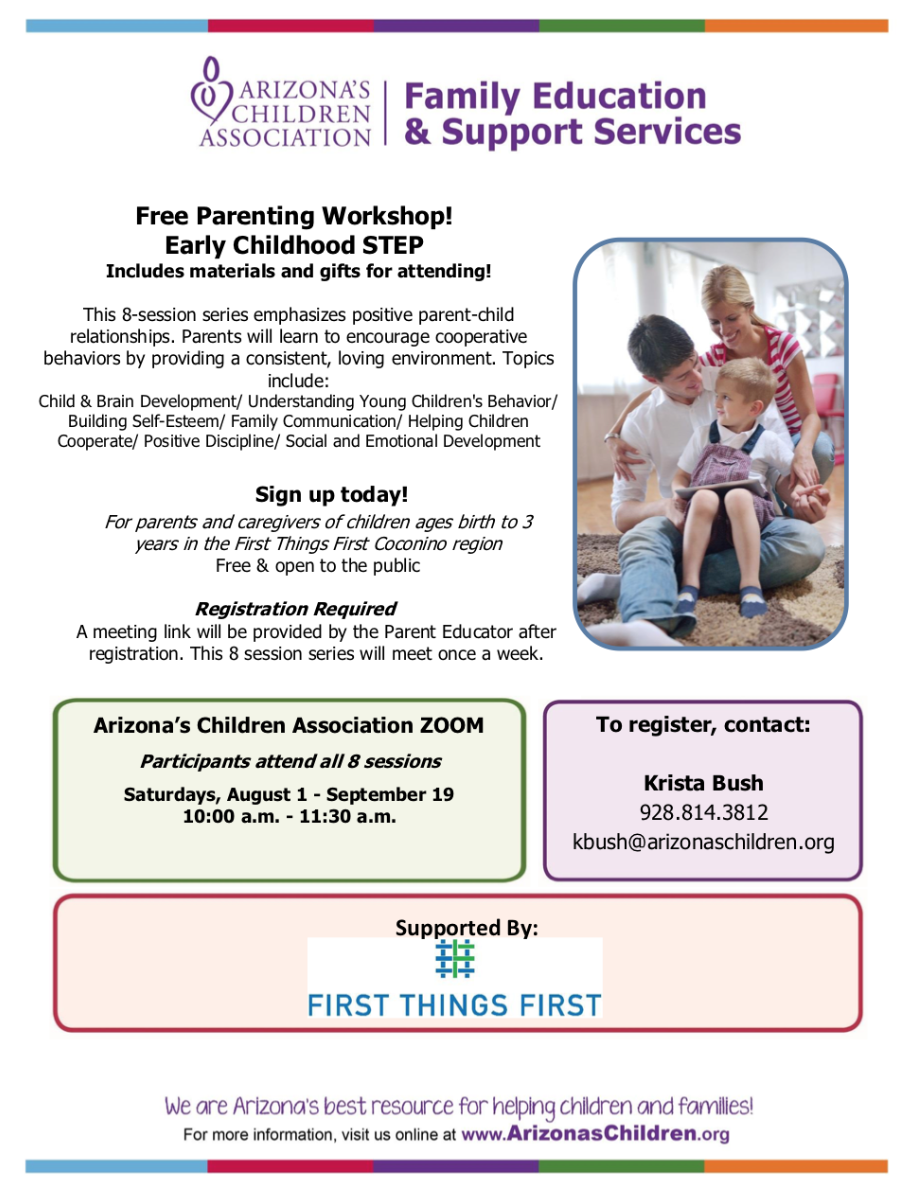 By the Coconino Coalition for Children & Youth
CCC&Y Member Profile — Arizona's Children Association — It's time for a new FREE parenting workshop presented by Arizona's Children Association and Parenting Educator Krista Bush believes the new Zoom format has been well received.
"The response has been very positive because parents (say it's more convenient) to stay at home and attend the webinars instead of going out in person," she said.
The Arizona's Children Association is presenting its "Parenting Workshop! — Early Childhood STEP" through Zoom from 10 to 11:30 a.m. Saturdays, through Sept. 19.
The workshops are for parents and caregivers of children ages birth to 3 years in the First Things First Coconino region and are FREE & open to the public
This 8-session series emphasizes positive parent-child relationships. Parents will learn to encourage cooperative behaviors by providing a consistent, loving environment.
Topics include: Child & Brain Development/ Understanding Young Children's Behavior/ Building Self-Esteem/ Family Communication/ Helping Children Cooperate/ Positive Discipline/ Social and Emotional Development
Bush, who has been teaching in-person parenting classes for years, said while the switch this year to Zoom sessions was required due to the Coronavirus Pandemic, it has helped the Association expand its efforts. Prior to the pandemic, Bush provided in-person parenting sessions throughout Coconino County.
"Now with Zoom, we have a statewide reach, with friends referring friends," she said. "Hopi has been our biggest audience. They have been very open, receptive and we have done several workshops there."
The great response to the Zoom format from parents will require a change in the workshops in the future.
"In my personal opinion, it will change how we do things and how we offer parent education," she said. "I do think it will change both the in-person and Zoom classes. It opens up a lot of opportunity and I see us moving toward a combo class."
Bush is also hoping to bring in more families from Page, Fredonia, Tusayan and the Grand Canyon using the Zoom format. The association had just begun to expand it's in-person outreach efforts in those communities. Now the challenge is to overcome web connectivity issues in those communities and add more parents.
Bush does look forward to some form of in-person classes.
"I miss there connection of working with the folks in person," she said. "Although Zoom is very effective, it's not the best way to connect with folks."
And that connection is important to the Association's mission of "Protecting Children. Empowering Youth. Strengthening Families."
"It's important to remember with the parenting workshops that all parents bring strengths and our goal is to build upon those strengths to optimize their parenting abilities," she said.
The Zoom "Parenting Workshop! — Early Childhood STEP" will be held from 10 to 11:30 a.m. Saturdays, through Sept. 19. Registration is required. A meeting link will be provided by the Parent Educator after registration. This 8-session series will meet once a week.
To register, contact:
Krista Bush
928.814.3812
Supported by First Things First
About Arizona's Children Association — Founded in 1912, we are one of the oldest and largest statewide comprehensive child welfare and behavioral health not-for-profit agencies in Arizona. Located in all 15 Arizona counties, we provide a variety of programs and services to meet the needs of more than 40,000 children, youth and families each year.
Category: Education, Educational Opportunities, Events, Programs, Resources