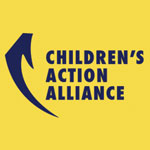 By Children's Action Alliance (CAA)

KidsCare is Arizona's Children's Health Insurance Program (CHIP), providing high quality, health coverage to children in working families. KidsCare was designed for families who earn too much to qualify for Medicaid/AHCCCS, but cannot afford private health insurance. All parents pay affordable monthly premiums and can choose their own doctor and dentist.
Arizona froze enrollment in KidsCare in 2010 and became the only state without a functioning CHIP program until the legislature and Governor Ducey lifted the freeze in 2016 with broad bipartisan support.
Today, almost 35,000 Arizona children are covered through KidsCare, but this coverage is once again at risk. State law has an automatic trigger to freeze KidsCare when the federal funding drops below 100%, which will happen on October 1, 2019. Most of these children will not have other options for health coverage and our rate of uninsured children will rise.
See Arizona legislative education news here:
See more Arizona education news here:
Category: Education