| Lisa Irish/Arizona Education News Service
Creating a supportive environment is helping reduce student behavior issues in Arizona schools and empowering students to pause before they respond instead of reacting to adverse events.
Just before spring break, a second-grader was crying while waiting outside the office at Holiday Park Elementary School and the boy beside him urged him to take a few deep breaths, said Rebecca Leimkuehler, principal of the  school in Cartwright Elementary School District in Phoenix.
"After several minutes, I heard them start to move and whisper," Leimkuehler said. "One boy asked the other, 'Are you okay?' The other boy said, "Yes, I'm sorry I pushed you. I just got really excited and wanted to be first in line just this time." The other boy responded 'It's okay. Maybe we can talk about this at morning meeting tomorrow, maybe take turns.' "
That let Leimkuehler know her staff's efforts were working to create a school where students practice skills,  develop strategies and solve issues independently. For some children, especially those who have experienced trauma, that behavior doesn't come naturally.
In Arizona, nearly 31 percent of children from birth to 17 years old have experienced two or more adverse childhood experiences, significantly higher than the national average of 22 percent, according to the 2011-12 National Survey of Children's Health.
Research shows experiencing six or more adverse childhood experiences increases risk factors for chronic diseases, which can reduce a person's life by up to 20 years, said Marcia Stanton, coordinator of  the Adverse Childhood Experience Initiative at Phoenix Children's Hospital.
Successful strategies schools are using
To address the impact of trauma or toxic stress, many Arizona schools are using calming and relaxation strategies such as yoga, mindfulness and breathing, creating safe environments with soft lighting, artwork and bean bag chairs, building in breaks for movement, and providing opportunities for students to be successful in non-academic activities.
To read more, follow the link here or click on the picture below!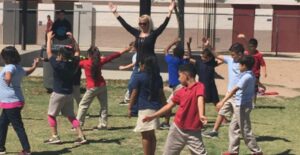 Category: Child Welfare, Education, Health