June 10, 2022
Proposed GOP State Budget Prioritizes Border Security Over Education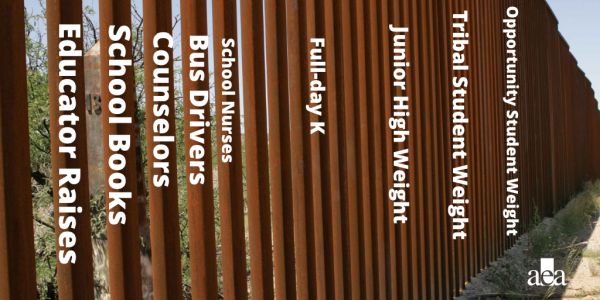 Republican legislative leadership and Governor Ducey have negotiated a proposed state budget and are trying to whip enough votes to pass it before the June 30 deadline.
According to media reports, the budget includes more money for border security than for public education spending.
AEA is reviewing the proposed budget and will release an analysis soon. At a glance, it looks like only small increases to the education budget despite the state having a $5.3 billion surplus.
While the proposed budget includes raises for other public employees, none of the funding is dedicated towards educators' pay raises. Instead, it proposes to eliminate the Teacher Experience Index which would mean a $20 million cut towards helping schools retain veteran teachers. This cut will be devastating for rural districts at a time when schools are facing a severe teacher shortage crisis.
In addition, the proposed budget would reduce state revenue by $1.3 billion over 3 years in the form of tax cuts. It would also expand the state's private school tuition tax credit program, draining up to $27 million from public schools.
Following one of the worst school shootings in our nation's history, our state's leaders have put no additional funding into school mental health or any of the research-based solutions to creating a safe and healthy learning environment for our students. Instead of funding districts' school safety plans and their own security staff, they are giving $20 million to police departments for school resource officers.
This budget is out of touch with what Arizona voters want and what our students need to be successful. AEA proposed the Educators' Budget, which would increase public school employee salaries, invest in more school counselors, and is supported by many Democratic lawmakers.
Contact your elected officials today and ask them to support the Educators' Budget >>