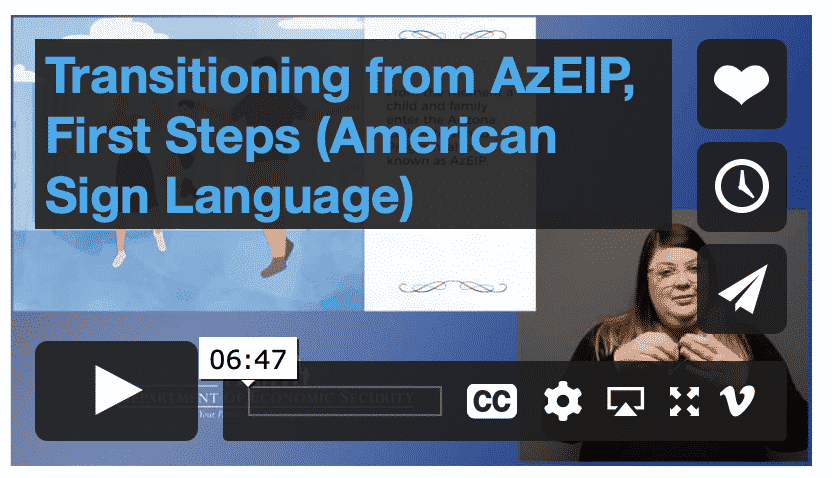 By Arizona Early Intervention Program (AzEIP)
The AzEIP office is excited to announce the release of our Transition overview video, Transitioning from AzEIP, First Steps, available here: under the Arizona Early Intervention Program and the Information for Families about AzEIP sections of the AzEIP website!
This video is meant to be a tool for service coordinators or other early intervention team members to assist families in understanding transition and may be used in conjunction with transition resources already in existence, including our recently released Transition Guide for Families. Our hope is that having this additional family-friendly resource will assist in making the transition process as smooth as possible for all involved.
This video is also available with American Sign Language translation. Both versions of the videos have the option of turning on English closed captioning or Spanish subtitles. Please review and let us know if you have any questions.
We would also like to thank the Interagency Coordinating Council (ICC) Transition Committee for all their hard work on this project. We truly appreciate the advice and support!
The AzEIP Team
Arizona Department of Economic Security | Arizona Early Intervention Program
1789 W. Jefferson St. Phoenix, AZ 85007 | Mail Drop: 2HP1
Phone: (602) 532-9960 | Email: AzEIP@azdes.gov
AzEIP Central Referral Line: (888) 592-0140
Category: Child Welfare, Education, Programs, Resources