Arizona Early Childhood Alliance Publishes A Policy Brief About the Arizona Child Care Crisis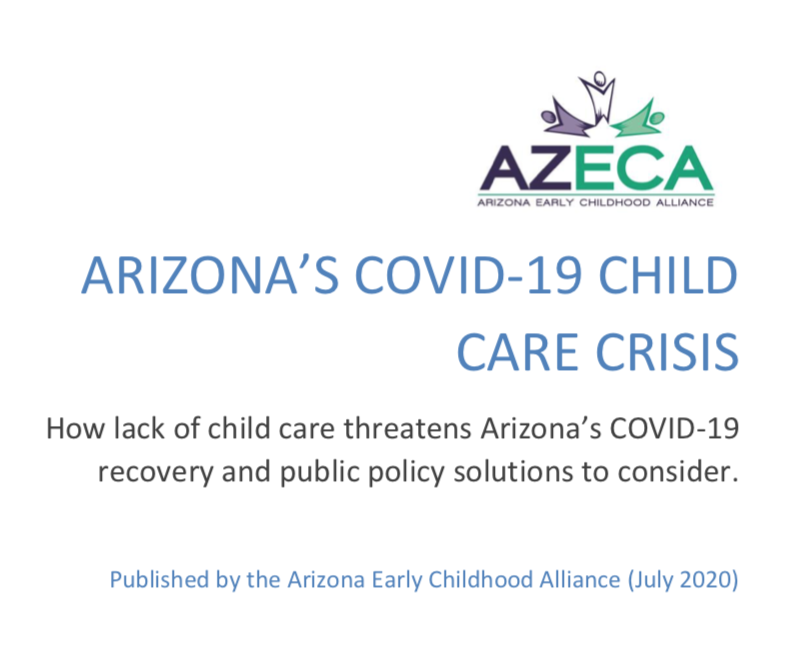 PHOENIX – The Arizona Early Childhood Alliance (AZECA) on July 30 published a policy brief about the insurmountable challenges that the child care industry currently faces as a result of the Coronavirus pandemic which may lead to the biggest child care crisis in modern history if targeted state support is not provided now.
"Child care programs have been struggling throughout this pandemic to keep their doors open, reopen if they closed, and remain open," stated Rebecca Gau, Chief Executive Officer of Stand for Children and Co-Chair of the AZECA Leadership Team. She continued, "This important brief exposes the issues and highlights the data, and most importantly, provides policy recommendations for our elected officials to consider in addressing this looming disaster. Child care is an essential infrastructure for parents to be able to go to work, and without state support soon, this industry will collapse."
Child Care Resource & Referral recently surveyed licensed child care providers statewide about their current and future status. The resulting data — from 831 providers across all 15 counties — reveals an industry on the brink of collapse. A third of licensed and regulated child care providers — businesses that Arizona families count on to care for their young children while they work — have been forced to close. And those providers who remain open are serving many fewer children than they did before the crisis. Programs are now serving just 38 percent of the total number of children they were prior to COVID-19. And nearly 40 percent of programs have had to lay off or furlough staff.
Arizona has already received $88 million from the federal Coronavirus Aid, Relief, and Economic Security (CARES) Act through the Child Care Development Block Grant (CCDBG) earmarked for child care relief. The expectation is that there will be additional funds when Congress agrees on the next COVID relief package. The policy brief outlines policy recommendations that ensure the preservation of much needed safe and reliable child care with this and any future federal funding.
Read the policy brief here. Access the policy brief infographic here.
Category: Advocacy, Child Welfare, Education, Resources