By the State of Arizona Department of Education
Dear Parent and/or Community Member: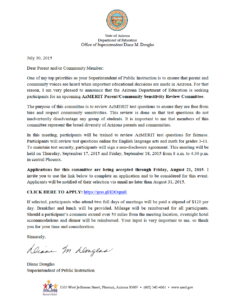 One of my top priorities as your Superintendent of Public Instruction is to ensure that parent and community voices are heard when important educational decisions are made in Arizona. For that reason, I am very pleased to announce that the Arizona Department of Education is seeking participants for an upcoming AzMERIT Parent / Community Sensitivity Review Committee.
The purpose of this committee is to review AzMERIT test questions to ensure they are free from bias and respect community sensitivities. This review is done so that test questions do not inadvertently disadvantage any group of students. It is important to me that members of this committee represent the broad diversity of Arizona parents and communities.
In this meeting, participants will be trained to review AzMERIT test questions for fairness. Participants will review test questions online for English language arts and math for grades 3-11. To maintain test security, participants will sign a non-disclosure agreement. This meeting will be held on Thursday, September 17, 2015 and Friday, September 18, 2015 from 8 a.m. to 4:30 p.m. in central Phoenix.
Applications for this committee are being accepted through Friday, August 21, 2015. I invite you to use the link below to complete an application and to be considered for this event. Applicants will be notified of their selection via email no later than August 31, 2015.
CLICK HERE TO APPLY: https://goo.gl/iDOqmR
If selected, participants who attend two full days of meetings will be paid a stipend of $120 per day. Breakfast and lunch will be provided. Mileage will be reimbursed for all participants. Should a participant's commute extend over 50 miles from the meeting location, overnight hotel accommodations and dinner will be reimbursed. Your input is very important to me, so thank you for your time and consideration.
Sincerely,
Diane Douglas Superintendent of Public Instruction
Category: Education