Experience making an impact with local Flagstaff youth; Join our team as a Skills Training Spe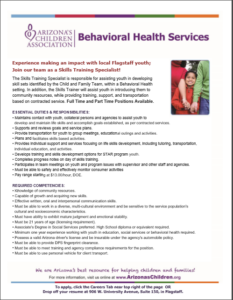 cialist!
The Skills Training Specialist is responsible for assisting youth in developing  skill sets identified by the Child and Family Team, within a Behavioral Health  setting. In addition, the Skills Trainer will assist youth in introducing them to  community resources, while providing training, support, and transportation  based on contracted service. Full Time and Part Time Positions Available.
CLICK HERE or on the picture for required competencies and essential duties.
Category: General