Shout Out to Our Million Girls Moonshot Peer Learning Community!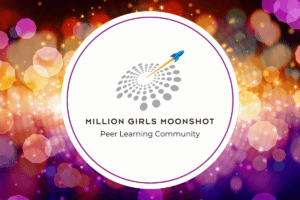 We want to give a huge shout out and appreciation to all those who participated in the Million Girls Moonshot Peer Learning Community over the last 3 months. Over the course of the Peer Learning Community, 12 out-of-school time professionals learned about
Engineering Mindset
practices to support their facilitation of STEM activities and how to make their STEM programming more
equitable and inclusive
. They showed up every other week to connect with one another through live virtual sessions and to collectively learn best practices when facilitating STEM activities. AzCASE appreciates your commitment to delivering high quality STEM programming to your youth that is equitable and inclusive. We look forward to seeing all the amazing things you will continue to do in your programs!
Shout out to…
Future for Kids
PUSD/Kidzone
Show Low Unified School District
Tolleson Elementary School District
Madison School District
Community ED
Madison Park Middle School
Kid Zone Enrichment Program
Free Cybersecurity Camp for 8th – 12th Grade Students, June 27 – July 1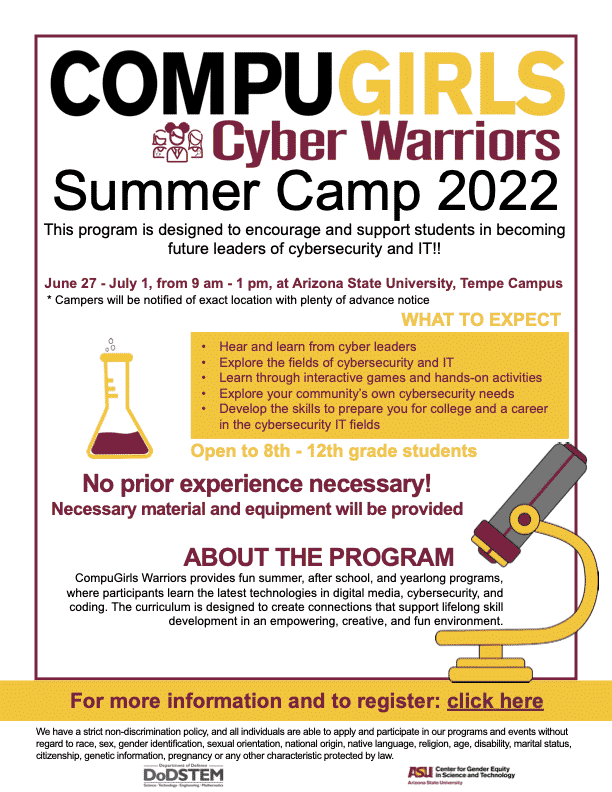 The Center of Gender Equity in Science and Technology (CGEST) at Arizona State University invites 8th-12th grade students to participate in a free CompuGirls Cyber Warriors summer camp from June 27-July 1.
CompuGirls Cyber Warriors teaches latest technologies in digital media, cybersecurity, and coding. The curriculum is designed to create connections that support lifelong skill development in an empowering, creative, and fun environment.
This program is funded through an educational grant with the Department of Defense and is, therefore, is provided to students at no cost to them. All necessary materials will be provided by the program (including a computer for those students who need one).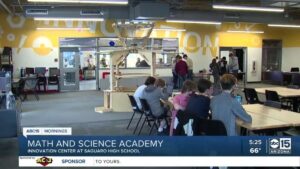 ABC15
Valley Students Overcoming Challenges through STEM at Saguaro High School
Three-dimensional printing, computer programming, robotics — this is where you'll find some of Arizona's most creative young minds in action. In this story, ABC15 takes us inside the Innovation Center at Saguaro High School — a place, like the name suggests, that inspires innovation.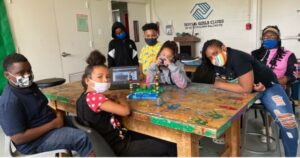 National AfterSchool Association
Bringing STEM Engagement To Young People Through Community-Based Orgs
Many young people consider community-based organizations, like yours, a home away from home. Whether your organization is local or within a national network, you give students a safe place to go after school, on weekends, and during summer vacations. Today, organizations are increasingly incorporating STEM activities into their program offerings and providing opportunities for students to grow new skills. Community-based organizations like the Boys and Girls Clubs of America, YMCA, Girl Scouts, 4-H, and local nonprofits can introduce young people to STEM ideas and engagement activities that are not always available in their homes and schools.
Category: Education, Educational Opportunities, Programs, Resources