The City of Flagstaff, Coconino County Community Services, & Northern Arizona Council of Governments (NACOG)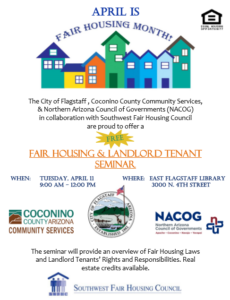 in collaboration with Southwest Fair Housing Council are proud to offer a FREE Fair Housing and Landlord Tenant Seminar.
When: Tuesday, April 11
9am – 12pm
Where: East Flagstaff Library
3000 N. 4th Street
The seminar will provide an overview of Fair Housing Laws and Landlord Tenants' Rights and Responsibilities. Real estate credits available.