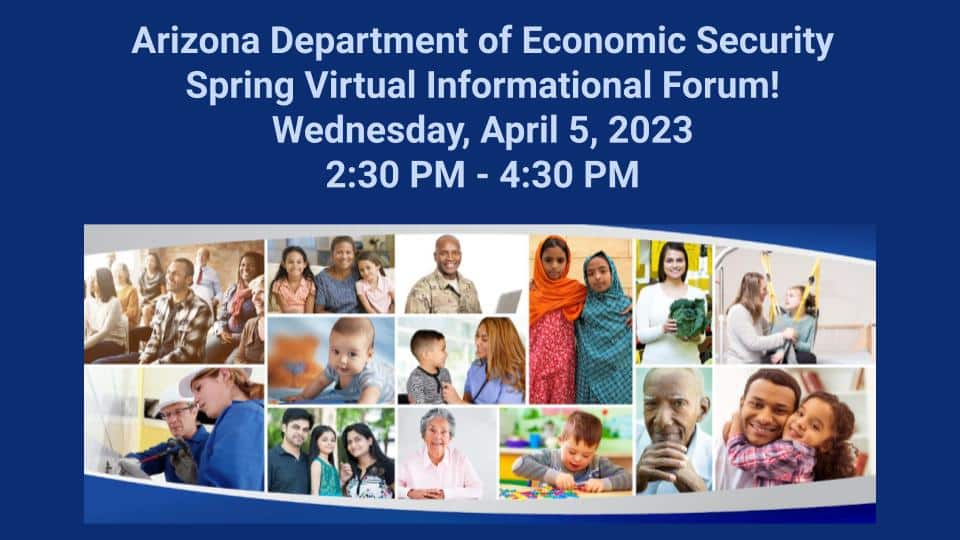 By Arizona Department of Economic Security
You are cordially invited to the Arizona Department of Economic Security
Spring Virtual Informational Forum!
Wednesday, April 5, 2023
2:30 PM – 4:30 PM
Featuring
Division of Aging and Adult Services (DAAS)
Division of Benefits and Medical Eligibility (DBME)
Division of Child Care (DCC)
Division of Child Support Services (DCSS)
Division of Community Assistance and Development (DCAD)
Division of Developmental Disabilities (DDD)
Division of Employment and Rehabilitation Services (DERS)
Arizona Achieving a Better Life Experiences (AZ ABLE)
Arizona Early Intervention Program (AzEIP)
and Special Guests
Arizona Health Care Cost Containment System (AHCCCS)
Arizona Department of Child Safety (ADCS)
Arizona Department of Health Services (ADHS)
Social Security Administration (SSA)
The Arizona Department of Economic Security (DES) is inviting community services leaders to join in on a conversation with DES leadership to strengthen the efforts of our shared mission to serve Arizonans in need. Your contribution to this conversation is vitally important, so we hope you will plan to attend. The forum will feature a roundtable format with breakout group discussions to facilitate focused conversation in programmatic areas. You will have an opportunity to join up to four (4) of the breakout rooms. Each breakout session will be 20 minutes long. As a community partner, your participation is vital and appreciated.
Please share this invitation with other service providers that may be interested. A list of DES programs and services is attached for reference.
After registering, you will receive a confirmation email containing information about joining the Forum.
IMPORTANT NOTE: To use the self-select Breakout Room feature you must have:
– Zoom Desktop client or mobile app: version 5.3.0 or higher.
– Zoom Chrome OS: version 5.0.0 (4241.1207) or higher.
If you do not, it will be necessary for us to place you into the breakout rooms manually, delaying your entry to the group. To ensure you have the correct version of Zoom, please consult your technology department or manager.
Anyone that requires a reasonable accommodation based on language or disability should contact ADES's Office of Equal Opportunity at
oeoada504coordinator@azdes.gov
. Requests should be made no later than March 31, 2023 to ensure there is ample opportunity to address the accommodation.
We look forward to seeing you there!
Category: Education, Educational Opportunities, Events, Programs, Resources