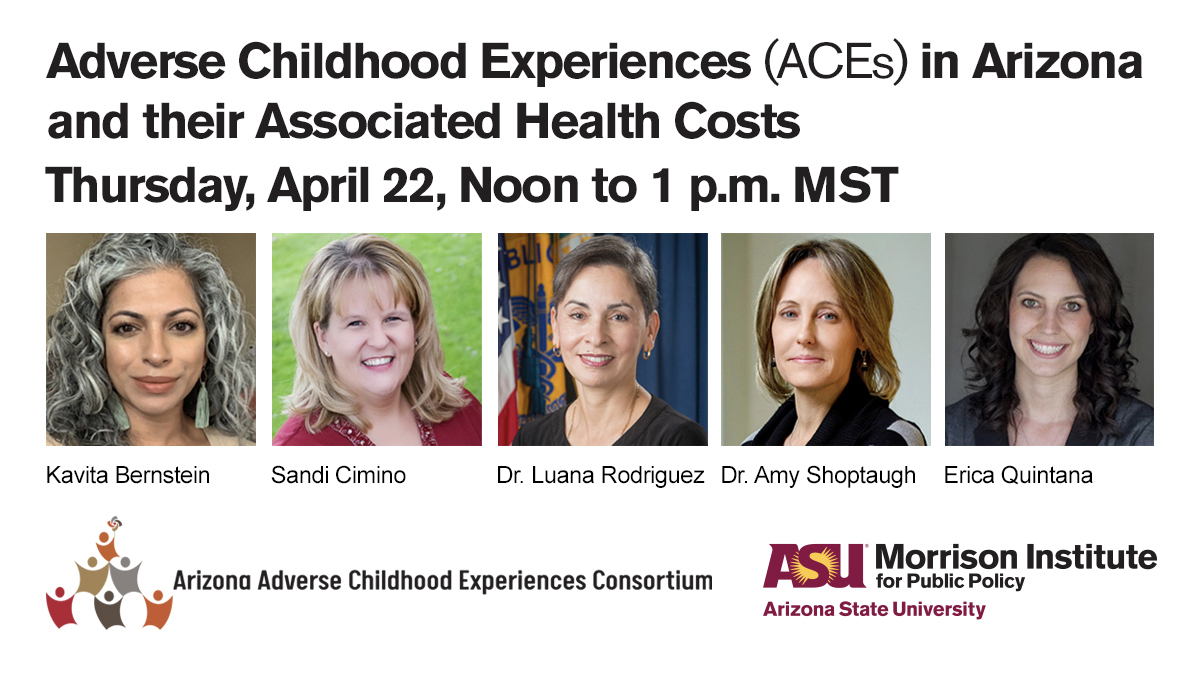 By ASU's Morrison Institute for Public Policy
The Arizona Adverse Childhood Experiences Consortium and ASU's Morrison Institute for Public Policy are co-hosting a presentation about the health and financial costs of ACEs in the state from noon to 1 p.m. MST Thursday, April 22.
An expert panel will discuss the relationship between ACEs and physical and mental health. The panelists will explore solutions that could reduce ACEs in Arizona and the potential impact on health and health care spending.
Featuring:
Kavita Bernstein – Bernstein is chair of the Arizona Adverse Childhood Experiences Consortium and children's health program manager for First Things First. She will moderate this webinar.
Sandi Cimino – Cimino has a background in social services and early childhood education and a passion for assisting parents in experiencing less stress and more joy in their families. Cimino is a certified trainer in the Strengthening Families Protective Factors Framework, certified ACEs trainer and certified trauma support specialist.
Erica Quintana – Quintana is a senior policy analyst with ASU's Morrison Institute for Public Policy, where she focuses on research related to child well-being. Her most recent report, "Cost of Adverse Childhood Experiences in Arizona," will be discussed in this webinar.
Dr. Luana Rodriguez – Rodriguez is a women's healthcare provider with over 30 years experience. She has been certified as an ACEs trainer and is a certified clinical trauma professional. She is also the founder and executive director of TIC Health Pro, LLC, a consulting firm to educate service providers on trauma-sensitive care practices that help to navigate the effects of ACEs and gender-specific adult trauma.
Dr. Amy Shoptaugh – Shoptaugh is a practicing pediatrician. She started All About Kids Pediatrics in 1998 and joined Phoenix Children's full-time in September 2020. She is the medical director of the Center for Resiliency and Wellbeing at Phoenix Children's and works part time at Dobson Village Pediatric Clinic in Chandler.
Category: Child Welfare, Education, Events, Programs, Resources