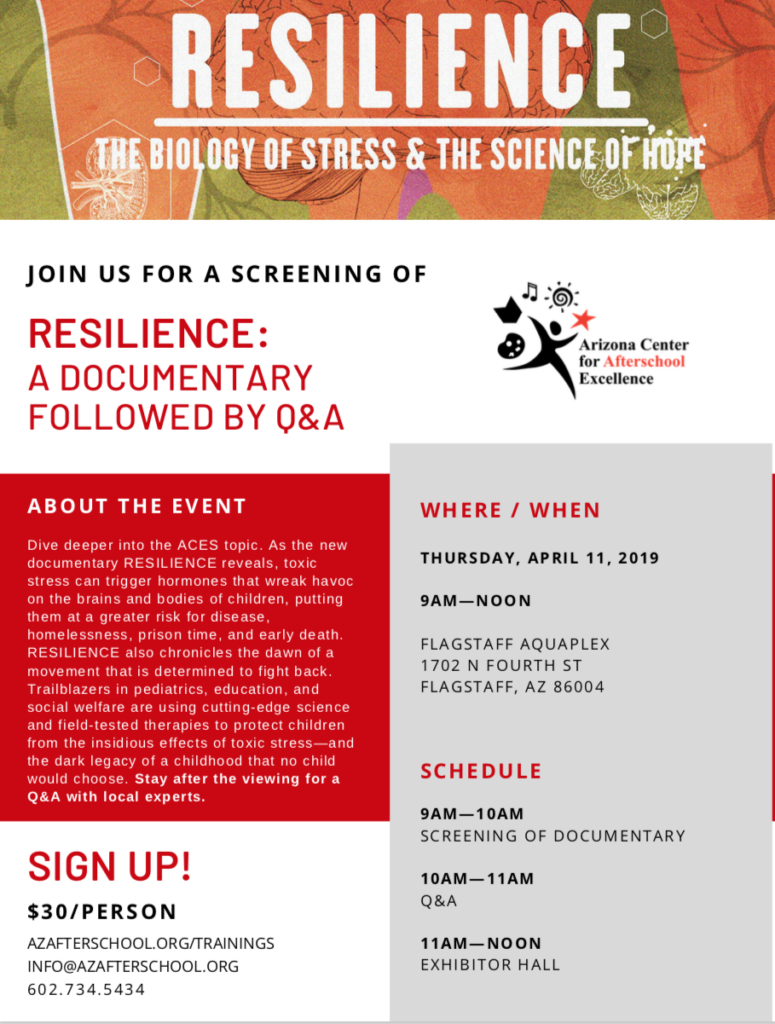 FLAGSTAFF — The Arizona Center for Afterschool Excellence will present the documentary "RESILIENCE — The Biology of Stress and the Science of Hope" from 9 a.m. to noon Thursday, April 11 at the Flagstaff Aquaplex, 1702 N. Fourth St., Flagstaff.
Stay after the viewing for a Q&A session with local experts, including Virginia Watahomigie, executive director of the Coconino Coalition for Children & Youth.
"If I had to boil it down for one thing for people to learn from this science, its to totally put to bed forever this sense that children who are born under disadvantaged circumstances are doomed to poor life outcomes. The science is saying that's just not true," — Dr. Jack Shonkoff, Pediatrician, Director, Center on the Developing Child, Harvard University.
Dive deeper into the ACES topic. As the new documentary RESILIENCE reveals, toxic stress can trigger hormones that wreak havoc on the brains and bodies of children, putting them at greater risk for disease, homelessness, prison time and early death.
RESILIENCE also chronicles the dawn of a movement that is determined to fight back. Trailblazers in pediatrics, education and social welfare are using cutting-edge science and field-tested therapies to protect children from the insidious effects of toxic stress — and the dark legacy of a childhood that no child would choose.
$30 per person, seats filling fast – Register today!
Category: Child Welfare, Education, Events