To celebrate International Day of the Girl, Sunny Peaks Girl Scouts and Coconino Coalition for Children and Youth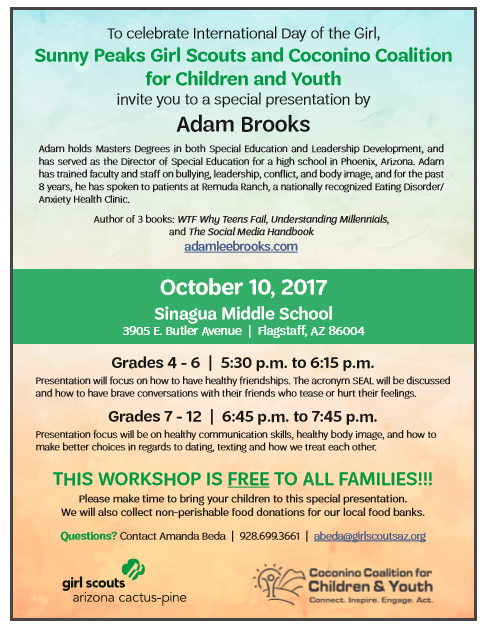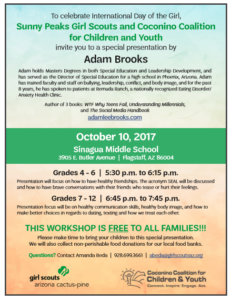 invite you to a special presentation by Adam Brooks.
Adam holds Masters Degrees in both Special Education and Leadership Development, and has served as the Director of Special Education for a high school in Phoenix, Arizona. Adam has trained faculty and staff on bullying, leadership, conflict, and body image, and for the past 8 years, he has spoken to patients at Remuda Ranch, a nationally recognized Eating Disorder/Anxiety Health Clinic.
When: October 10, 2017
Where: Sinagua Middle School
3905 E. Butler Avenue
Flagstaff, AZ 86004
Grades 4 – 6: 5:30 – 6:15pm
Presentation will focus on how to have healthy friendships. The acronym SEAL will be discussed and how to have brave conversations with their friends who tease or hurt their feelings.
Grades 7 – 12: 6:45 – 7:45pm
Presentation focus will be on healthy communication skills, healthy body image, and how to make better choices in regards to dating, texting, and how we treat each other.
This workshop is FREE to all families! Please make time to bring your children to this special presentation. We will also collect non-perishable food donations for our local food banks.
Category: Child Welfare, Educational Opportunities, Events