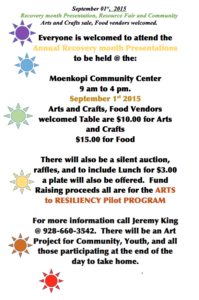 MOENKOPI — The "Annual Recovery Month Presentation, Resource and Community Celebration" will be held from 9 a.m. to 4 p.m. Tuesday, Sept. 1 at the Moenkopi Community Center.
Everyone is welcomed to attend.
There will be an art project for community, youth and all those participating at the end of the day to take home, a silent auction, raffles and lunch for $3 per plate.
Funds raised will be used for the ARTS to RESILIENCY Pilot PROGRAM.
Arts and crafts and food vendors are welcomed. Tables are $10 for arts and crafts, $15 for food.
Contact Jeremy King at (928) 660-3542 for more information.