2023 Priority Bills
Crossover week has finally wrapped up at the legislature, which means we have more information about what bills are likely to make it through both chambers and onto Hobbs' desk. Still moving: bad bills on guns and firearms training at schools, attacks on LGBTQ youth, book banning bills, tax cuts and voucher expansions. Ugh!
We've put together a bill tracking page to help you follow where priority bills are in the process. Check it out here! We'll be updating it frequently, so bookmark the page for future reference.
If you haven't yet, make sure to sign in to RTS in opposition to these bad bills!
Educators at the Capitol: March 15 or 22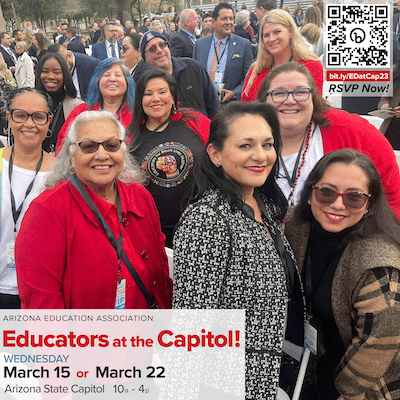 If you're an AEA member, register now for Educators at the Capitol! The event will run from 10 am to 2 pm on March 15 and 22. Register for whichever day is best for you.
Together, we'll officially roll out our Educators' Budget for 2023.We'll also have a chance to meet educators who are currently serving in the state legislature, along with other key elected officials who are shaping education policy. Don't miss it!
Yet Another Giveaway for Corporations and the Wealthy?!
Arizona's legislators are considering yet another set of giant giveaways to corporations and the wealthy. SCR1035 and HB2003 would give big benefits to corporations and the rich while draining money away from our public schools.
And unlike most legislation, SCR1035 can't be vetoed by Governor Hobbs. We have to take action now to stop this outrageous proposal from moving forward.
Please contact your legislator now!
Public School Sports Programs Should Not Be Forced to Include Private School Students
SB1564 requires public schools to offer spots on public school sports teams to students who are using vouchers to attend private school or be homeschooled.
As public school educators, we are tired of the constant efforts to force public schools and taxpayers to underwrite private schools. Instead of helping a select group of people attend private school, we should be funding and investing in the existing public school system chosen by 90% of Arizona families.
Tell your legislator to vote NO on SB1564!
Paid for by the Arizona Education Association. Not authorized by any candidate or committee.
Arizona Education Association
345 E. Palm Ln.
Phoenix, AZ 85004
United States
Category: Advocacy, Education, Educational Opportunities, Programs, Resources