The Adult/Teen and Children's April Calendars for Page Public Library has been released.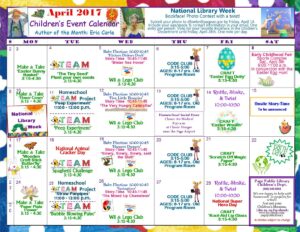 Click here for the Adults and Teens Calendar, or here for the Children's calendar.
Adults and teens have a "Learn Computer @ Your Library" event, 4 – 6pm on Wednesday, April 12.
Baby Playtime "Five Little Bunnies" 10-10:45, Story Time "The Very Hungry Caterpillar" 10:45-11:45, and Wii & Lego Time 3:15-4:30 on Wednesday, April 12th.