Presented by: Melissa Ward, M.Ed., CPM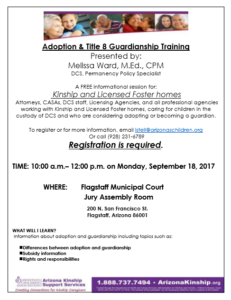 A FREE informational session!
The training is to provide information to kinship and licensed foster families to assist in making informed decisions regarding Adoption and Title 8 Guardianship. All licensing and community professionals who work with children in the kinship and licensed foster homes are invited and encouraged to attend this valuable training.
What will I learn?
Information about adoption and guardianship including topics such as:
Differences between adoption and guardianship
Subsidy information
Rights and responsibilities
Registration is required! To register or for more information, email lstell@arizonaschildren.org or call (928) 231-6789.
Time: 10am – 12pm
Monday, September 18, 2017
Where: Flagstaff Municipal COurt
Jury Assembly Room
200 N. San Francisco St
Flagstaff, AZ 86001
Category: Child Welfare, Educational Opportunities, Events, Resources