Embrace the joy of parenting.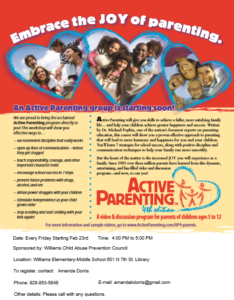 An Active Parenting group is starting soon! Active Parenting will give you skills to achieve a fuller, more satisfying family life…and help your children achieve greater happiness and success. Written by Dr. Michael Popkin, one of the nation's foremost experts on parenting education, this course will show you a proven-effective approach to parenting that will lead to more harmony and happiness for you and your children. You'll learn 7 strategies for school success, along with positive discipline and communication techniques to help your family run more smoothly.
This workshop will show you effective ways to:
use nonviolent discipline that really works
open up lines of communication – before they get clogged
teach responsibility, courage, and other important character traits
encourage school success in 7 steps
prevent future problems with drugs, alcohol, and sex
defuse power struggles with your children
stimulate independence as your child grows older
stop scolding and start smiling with your kids again!
When: Every Friday starting Feb 23, 2018
4-5pm
Where: Williams Elementary Middle School
601 N 7th St Library
To register, contact Amanda Dorris at (928) 853-5848 or amandakdorris@gmail.com
Category: Child Welfare, Events, General, Health, Programs, Resources