FREE Parenting Workshops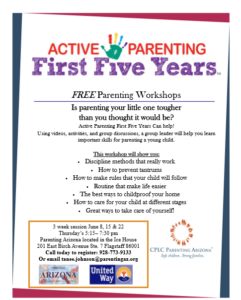 Is parenting your little one tougher than you thought it would be? Active Parenting First Five Years can help! Using videos, activities, and group discussions, a group leader will help you learn important skills for parenting a young child.
This workshops will show you:
Discipline methods that really work
How to prevent tantrums
How to make rules that your child will follow
Routine that make life easier
The best ways to childproof your home
How to care for your child at different stages
Great ways to take care of yourself!
3 week session June 8, 18, and 22
Thursdays 5:15 – 7:30 PM
Parenting Arizona located in the Ice House
201 E Birch Avenue Ste 7
Flagstaff, AZ 86001
Call today to register: (928) 773-9133 or email tanee.johnson@parentingaz.org
Category: Child Welfare, Educational Opportunities, Events, Health, Resources