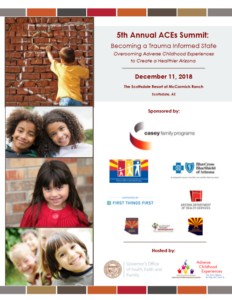 5th Annual ACEs Summit: Becoming a Trauma Informed State. Overcoming Adverse Childhood Experiences to Create a Healthier Arizona
The 5th annual ACEs Summit is quickly approaching (Tuesday, Dec. 11th,), and for those who can't attend in person, the morning portion from 9:00am – 12:30pm, will be livestreamed.  This will include addresses by First Lady Angela Ducey, Governor Doug Ducey, and Dr. Bruce Perry, as well as the plenary panel "Working with Vulnerable Populations in a Trauma-Informed Way".  Attached is the event program.
If interested, you can view the live-stream at this link: https://www.pcaaz.org/acessummit/.
Category: Child Welfare, Events, Programs