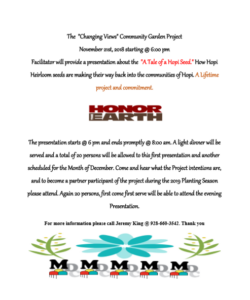 The  "Changing Views" Community Garden Project
Facilitator will provide a presentation about the  "A Tale of a Hopi Seed." How Hopi Heirloom seeds are making their way back into the communities of Hopi. A Lifetime project and commitment.
The presentation starts @ 6 pm and ends promptly @ 8:00 am. A light dinner will be served and a total of 20 persons will be allowed to this first presentation and another scheduled for the Month of December. Come and hear what the Project intentions are, and to become a partner participant of the project during the 2019 Planting Season. Again 20 persons, first come first serve will be able to attend the evening Presentation.
This event is open to the youth and adults for the purpose of learning and expanding the use of cultural knowledge.  A meeting is also held every Tuesday and Thursday as scheduled to help prevent the onset of drug abuse and to help intervene in the lives of those who are suffering from societal ills.
For more information please call Jeremy King @ 928-660-3542.
When: November 21st, 2018
6:00 pm