A fundraiser for Northern Arizona Interfaith Council (NAIC), bringing the community together and building leadership to improve the lives of families.
NAICL invites you Sunday, January 26th from 3 to 6:30 p.m. at the Orpheum Theatre to a family friendly event with Meredith and Michael of the Sugar Thieves.
General Admission is $15, KIDS ARE FREE.
See flyer for more details!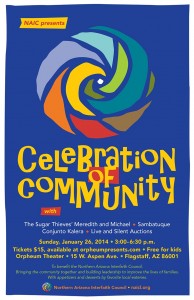 Category: Events