5 Things from First Things First
1. Sam I Am: Summertime is Opportunity for Reading Time
For some students, summer may be a break from learning, but for families with young kids, summer is the ideal time to instill a love for reading that will last a lifetime.
Young children need to hear language — lots of different words — in order to develop the language skills they'll need to be good readers. And daily reading is a proven way to expose young children to a wide variety of words.
This month, First Things First along with its partners in the Read On Arizona coalition, helped kick off Arizona's summer reading program.
▶ KICK OFF your family's summer reading with more programs, reading tips and resources.
2. Help Spread the Word!: KidsCare Enrollment Begins July 26 
Did you know that Arizona has one of the highest rates of uninsured children? Health insurance is crucial for helping families access preventive care — like well-child visits, developmental screenings, immunizations and oral health care — that keeps their child healthy and identifies potential learning challenges early on.
Recently, Arizona lawmakers voted to re-open enrollment in KidsCare, the state's health insurance program for children in low-income working families. Enrollment begins July 26and as many as 40,000 Arizona children may be eligible (138% – 200% of the federal poverty level). Unfortunately, many families may be unaware of the availability of KidsCare and the community resources that can help them apply.
We all have a shared responsibility to help children arrive at kindergarten healthy and ready to succeed. We will continue to keep you posted with information and tools you can use to spread the word and make more families aware of this benefit.
3. Around Arizona: Tucson Dad Learns How to Prepare Son for Kindergarten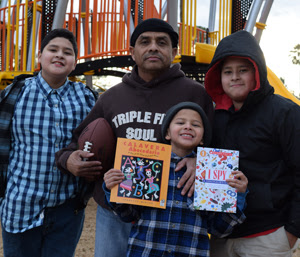 Miguel Cortez has three sons, twins who are in sixth grade, and Christopher, who started kindergarten this fall. When Christopher was three, Miguel enrolled them in Dad and Me, a set of parenting classes organized by Parents as Teachers and funded by First Things First.
"I learned how to better interact with my kids and to be interested in what they are interested in," Miguel said. As he noticed Christopher getting more into books, colors and letters, the PAT coordinator made suggestions of additional things Miguel could do with his young son.
The Dad and Me program also had a profound effect on how Miguel viewed his role as a father.
▶ READ MORE about Miguel and Christopher and find more stories of impact in Arizona.
4. Register Now at a Discounted Rate
 The First Things
First Early Childhood Summit brings together early childhood supporters and stakeholders to share innovative strategies that help kids be ready for school and set for life. This year's Summit will present an exciting lineup of keynote and featured speakers and a wide array of informative breakout sessions on important early childhood topics. Make plans to join us in August.▶ VISIT summit.azftf.gov for details on Summit speakers, programming and registration.
5. Did You Know? 
Social and emotional development is the foundation of children's cognitive development and lifelong learning. Unfortunately, when children experience behavior problems, which can range anywhere from tantrums to biting other children, they are likely to miss out on important learning opportunities.
Since 2010 First Things First has supported the Smart Support program, designed to improve the ability of early care and education professionals to prevent, identify and respond to emotional and behavioral struggles among children in their care. The findings of a recent evaluation study of Smart Support, which is adminstered by Southwest Human Development, provide compelling evidence that these investments are paying off for Arizona's young children and families.
▶ LEARN MORE about Smart Support and read the evaluation report.