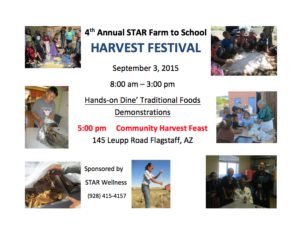 The 4th annual STAR Farm to School Harvest Festival will be held from 8 a.m. to 3 p.m. Thursday, Sept. 3 at 145 Leupp Road, Flagstaff.
The event features hands-on Dine' traditional foods and demonstrations, with the community harvest feast scheduled to begin at 5 p.m.
The STAR (Service to All Relations) School is a charter elementary school located 25 miles east of Flagstaff, Arizona, near the Southwest corner of the Navajo Nation. The school serves students from preschool through grade 8 who live in a large rural area that includes Leupp, Tolani Lake and parts of Flagstaff, the school reported on its website at http://www.starschool.org
The Harvest Festival is sponsored by Star Wellness. Contact Louva Montour, Star Wellness coordinator, at (928) 415-4157 for more information.