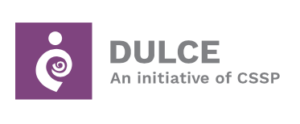 By the Center for the Study of Social Policy
The Center for the Study of Social Policy (
CSSP
) is seeking applications from organizations interested in implementing
DULCE
within their community. This opportunity is designed for communities that have some of the needed partnerships in place and/or those communities with funding for full implementation of DULCE. CSSP will provide tailored support in the planning phase and technical assistance in implementation.
DULCE (Developmental Understanding and Legal Collaboration for Everyone) is an innovative approach based in the pediatric care setting that proactively addresses social determinants of health, promotes the healthy development of infants, and provides support to their parents, all during the precious and critical first 6 months of life.
CSSP is seeking communities interested in implementing DULCE in pediatric health settings for children birth to six months of age, in partnership with the local early childhood and legal systems. In addition, we are open to using this grant opportunity to support the planning needed for the adaptation of DULCE including, for example, in the prenatal space, extending beyond the 6-month well-child visit to the 9 or 12-month birth date, or in another health-related setting. Any adaptations must include the three critical systems for implementation: early childhood, health and legal.
Learn more about this opportunity by reviewing the full RFA
here
. All those interested in applying can access the application
here
.
DULCE Planning and Implementation Grants
Amount: CSSP will award four grants for up to $40,000 per award
Application due date: August 21
Funding cycle: 10/1/20 to 6/30/21
Eligible organizations: US non-profit organizations and local governmental agencies
Important Dates
July 23. Introductory webinar to learn more about DULCE and this funding opportunity.
August 21. Applications due
September 7-18. Interviews with finalists
September 25. Awards announced
An introductory webinar to learn more about DULCE and this funding opportunity will be held Thursday, July 23
rd
at 2 pm ET. The call will be recorded and available to anyone who registers for the webinar. Please register
here
.
If you have any questions, please email the DULCE National Center at
dulce@cssp.org
.