This year's participants can choose from a range of topics including: leadership and advocacy, language and literacy,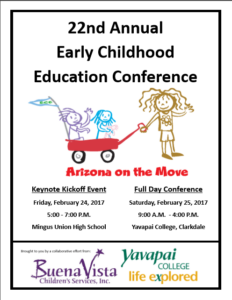 science, math, and social-emotional strategies, for a total of up to 9 professional development hours.
"The Minds of Boys and Girls" Presented By: Katey McPherson Executive Director of The Gurian Institute
Keynote Kickoff Event
Friday, February 24, 2017
5:00 – 7:00 P.M.
Mingus Union High School
Free with conference registration
February  24, 2017 (Night before full-day conference)
Located at Mingus Union High School,
1801 E. Fir St.
Cottonwood, Arizona
5:00 – 7:00 PM
3 Hours Professional Development Credit
Keynote Workshop Sessions
Included in full day conference
Geared toward Early Childhood Educators
Offered during morning sessions
( 9:00-10:15 AM and 10:30- 11:45 AM)
Full Day Conference
Saturday, February 25, 2017
9:00 A.M.  – 4:00 P.M.
Yavapai College, Clarkdale
CLICK HERE to register for classes!
CLICK HERE or on the picture for more details about the conference!
Category: Child Welfare, Education, Educational Opportunities, Events, Resources