Tuba City Regional Health Care Corp are inviting interested departments and local programs to hold a booth at their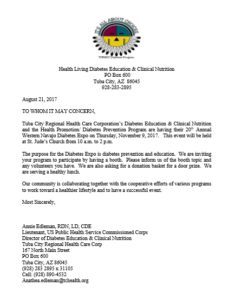 20th Annual Diabetes Expo on November 9th at St Jude's Church in Tuba City. On November 15th, 10am-1pm, Sacred Peaks will also be holding their 2nd Annual Diabetes Expo for those that are interested.
Please complete the form and email, fax, or mail it back to Anathea Edleman at Anathea.Edleman@tchealth.org. Programs holding a booth are asked to contribute a healthy door prize item or basket.