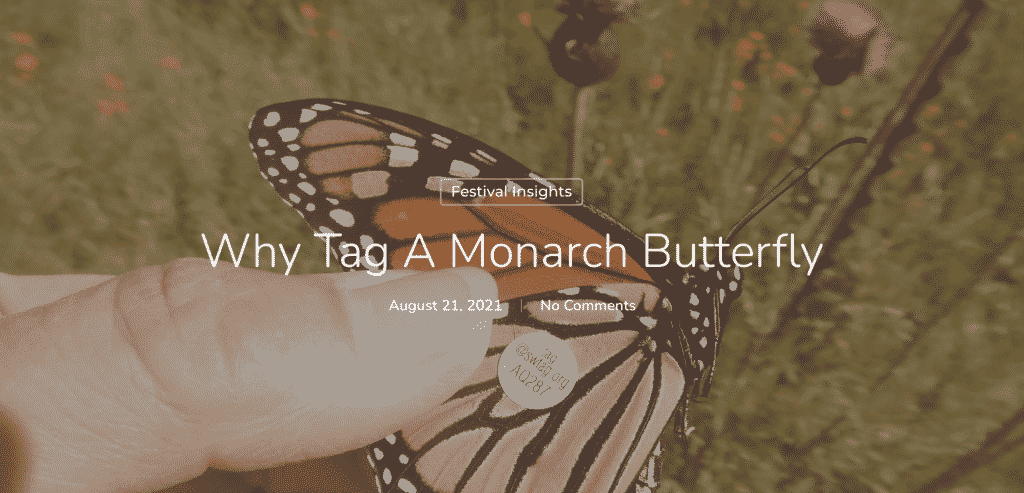 Editor's note — From buried Maya cities to prehistoric cliff-dwellings, the 2021 Flagstaff Festival of Science will explore "Stories in Stone" on September 17-26 in Flagstaff, Arizona. Each week we will share a "Festival Insight." Click here for more Festival of Science information.
By the Flagstaff Festival of Science
Surprisingly, tagging butterflies isn't new! Tagging monarchs began in the early 1949's to help learn the destination of monarch butterflies on their fall migration. Dr. Fred Urquhart developed a method to tag a monarch using paper tags that were glued over the leading edge of the upper wing. Today with newer technology available, tags are now lightweight and waterproof and can be placed in the dorsal (under) side of the discal cell, a mitten shaped cell in the monarch's lower wing. When placed properly in the discal cell and then pressed lightly for several seconds afterwards, the heat and pressure force the adhesive on the back of the tag through the scales where it becomes securely attached to the butterfly's wing.
The big advantage of using the newer tags is they don't interfere as much with the monarch's flight when attached properly. If someone is lucky enough to spot a tagged monarch enroute or at their destination we can all learn where monarchs migrate each fall.
Read the full article HERE
Category: Education, Educational Opportunities, Events, Programs, Resources