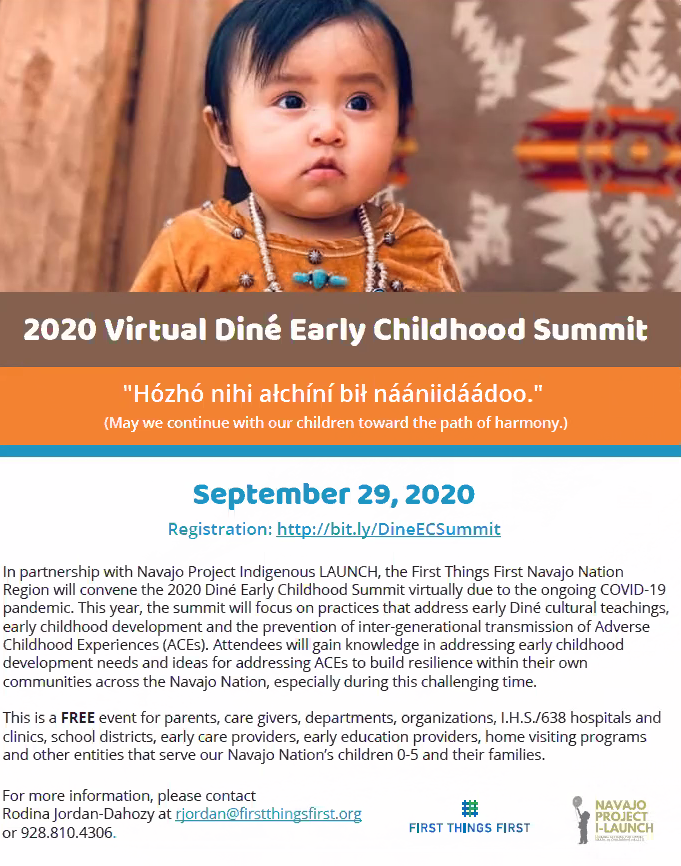 By First Things First
In partnership with Navajo Project Indigenous LAUNCH, the First Things First Navajo Nation Region will convene the 2020 Diné Early Childhood Summit virtually due to the ongoing COVID-19 pandemic.
The Summit will be held from 8:45 a.m. to 3 p.m. Tuesday, Sept. 29. Register at http://bit.ly/DineECSummit
This year, the summit will focus on practices that address early Diné cultural teachings, early childhood development and the prevention of inter-generational transmission of Adverse Childhood Experiences (ACEs). Attendees will gain knowledge in addressing early childhood development needs and ideas for addressing ACEs to build resilience within their own communities across the Navajo Nation, especially during this challenging time.
This is a FREE event for parents, care givers, departments, organizations, I.H.S./638 hospitals and clinics, school districts, early care providers, early education providers, home visiting programs and other entities that serve our Navajo Nation's children 0-5 and their families.