(EDITOR'S NOTE: PLEASE BE SURE TO CHECK WITH THE INDIVIDUAL ORGANIZATIONS REGARDING POSTPONEMENT / CANCELLATION OF EVENTS DUE TO THE ONGOING CORONAVIRUS SITUATION)
By CCC&Y
The following is a compilation of upcoming events in the Grand Canyon, Tusayan region. To share your upcoming events, please attend the next Tusayan-Grand Canyon Wellness Group meeting is held from 2:30 to 3:30 p.m. the first Wednesday of the month. Normally, meetings at the Big E Steakhouse and Saloon, Building 395, Arizona State Route 64, Tusayan, and from 2:30 to 3:30 p.m. the third Wednesday of the month at the Xanterra Purchasing Office, Albright Street, Grand Canyon.
Can't attend the meetings in person? Call into conference call number at 605-472-5380, use code 639046. Contact laura.chastain@grandcanyoncvb.org for more information.
Precautions are being taken due to coronavirus (COVID-19)
Confirmed cases in Grand Canyon/Tusayan: 5 (confirmed on 6/05)
The South Rim's South Entrance is now open 24 hours/day. Some visitor services and overnight accomodations are available.
Entrances fees should be paid at automated fee machines or by purchasing a pass in advance from nearby third-party vendors, or online, through Recreation.gov. Click here or above for more information
News Release Date: May 27, 2020
Contact: Office of Communications, 928-638-7779
Grand Canyon, AZ – Grand Canyon National Park implemented Stage 2 fire restrictions for the South Rim May 25, which will be effective until further notice.
Due to increased fire danger, all wood burning and charcoal fires, including campfires, warming fires, and charcoal barbeques, will be prohibited on the South Rim of the park. This includes all campgrounds and residential areas. Pressurized liquid or gas stoves, lanterns, and heaters are allowed. Click here or above for more information.
COVID-19 Grand Canyon Community Resources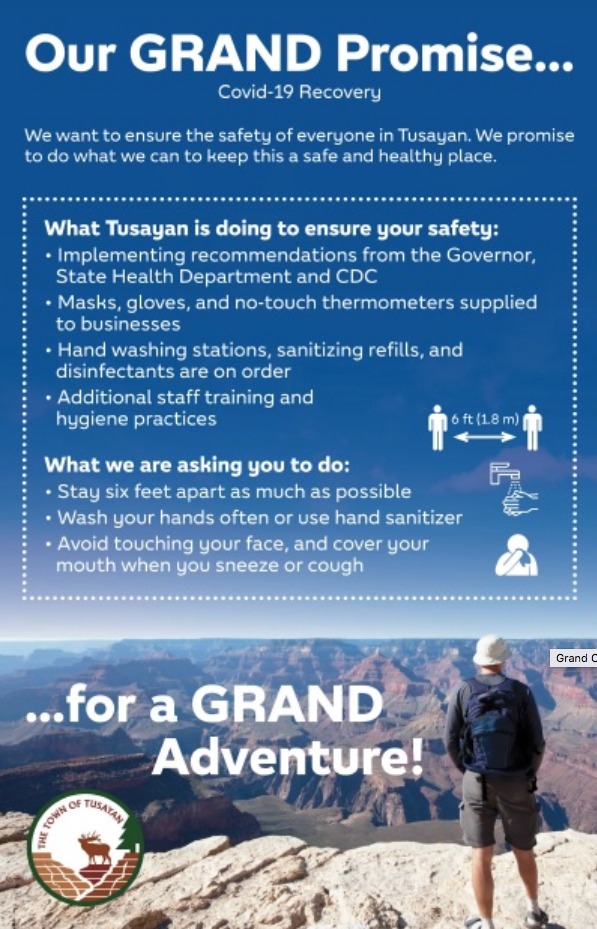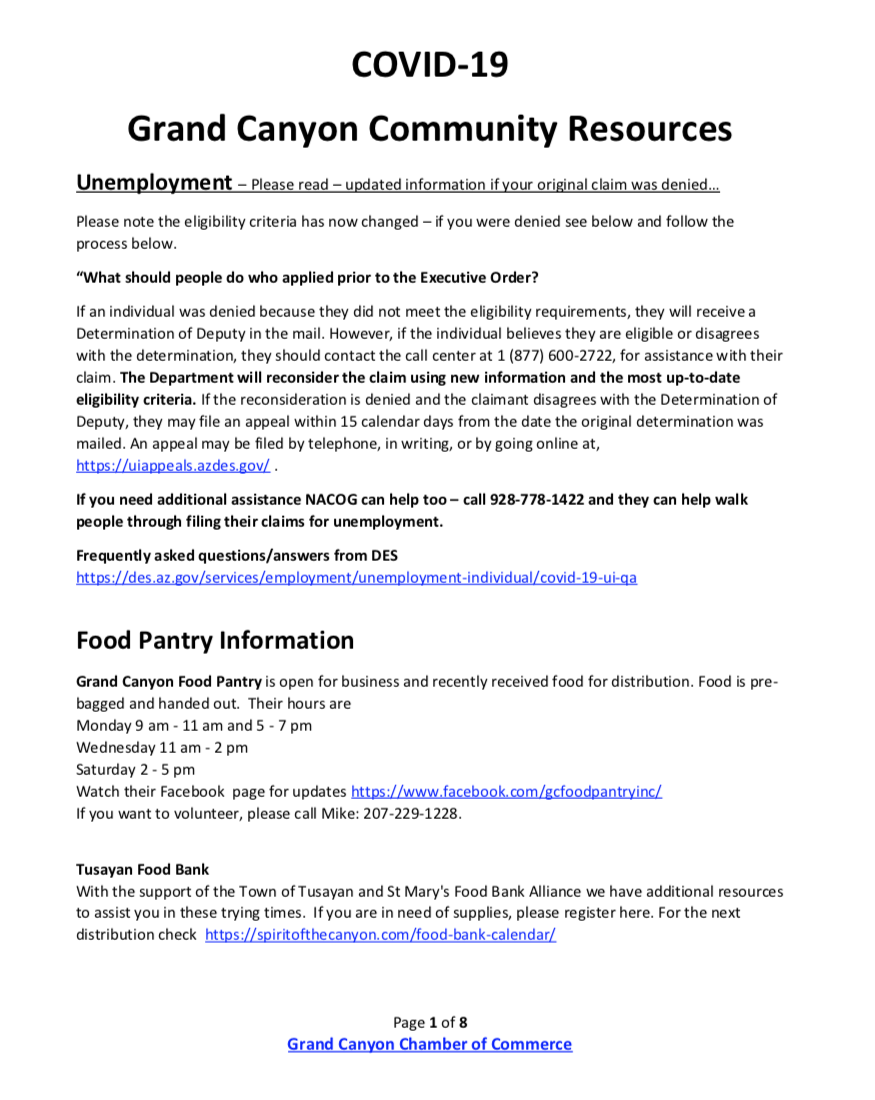 Click on image above for full PDF
Life Discovery to host grief care workshop via Zoom weekly July 11 through Aug. 9
Healing From Loss – Reclaiming Your Life –
Has there been a recent change or loss in your life? Is there anything in your life that you wish were better, different, or more? Are you feeling 'stuck' in life?
Experts on grief have identified over 40 different kinds of losses including:
Loss of identity, security, hope, or trust
Loss of career, health, or home
Betrayal or emotional abuse
Loss of friendship or close relationship
Divorce or death of a loved oneLoss can be about things in your past, present, or about the broken dreams and shattered hopes of what the future was supposed to hold. While the natural reaction to loss is grief, the journey of navigating grief is often complex and painful.Are you investing in your 'emotional' and 'relational' retirements? i.e., Do you have the tools you need to process and manage loss and the heartache that goes with it when it happens to you or a close friend?Healing from Loss is not a support group. Instead we take you on a healing journey that provides a focused, proven action plan that includes reading, weekly group participation, personal reflection, and homework designed to help you reclaim your life after grief/loss as well as develop the tools to help others through their grief and loss. This workshop will build on itself over ten 3-hour classes beginning July 11, 2020 (the class will meet Saturday evenings from 6:30 – 9:30pm AND Sunday mornings from 8:30-11:30 thru August 9th). Class will be held at the Victim Witness Services Office located at the Xanterra HR building on South Village Loop (across from the mule barn). Cost is by donation.The workshop is presented by LIFE DISCOVERY, a non-profit organization dedicated to helping those who have experienced grief or loss.Chaplain Greg Olson, BCC – Director and Grief Recovery Specialist
Call Bethany Larsen with any questions or to register for the workshop 928-864-9791
Resilient Arizona Crisis Counseling Program to Provide Free and Confidential Support and Connections to Resources for Arizona Residents Impacted by COVID-19
New Bilingual Statewide Program Accessible via 2-1-1 Arizona
FOR IMMEDIATE RELEASE
Tempe, Arizona, [June 24, 2020] – In partnership with the Arizona Department of Health Services (ADHS) and the Arizona Health Care Cost Containment System (AHCCCS) and made possible by Federal Emergency Management Agency Grant funding, Crisis Response Network (CRN) announces that the new Resilient Arizona Crisis Counseling Program launched on July 22, 2020, to provide 100% free and confidential support and connections to resources for Arizona residents impacted by the COVID-19 Pandemic.
Accessible via CRN's existing 2-1-1 statewide information and referral phone number, the Resilient Arizona Crisis Counseling Program is a bilingual (English and Spanish), federally-funded program that will connect callers to crisis counseling providers in their area throughout the state of Arizona.
The mission of Resilient Arizona CCP is to assist individuals and communities in recovering from the psychological effects of the Coronavirus pandemic through crisis counseling services which include community-based outreach, emotional support and educational services.
Crisis counseling seeks to prevent the onset of diagnosable disorders by helping individuals understand they are experiencing common reactions to extraordinary occurrences. All services are provided at no cost and are available to anyone who has been impacted by the pandemic. These services are provided in safe, accessible telephonic and virtual locations. Services can be provided in a group setting or one-on-one and include supportive crisis counseling, education, development of coping skills, and connection to appropriate resources.
Crisis counselors help enhance social and emotional connections to others in the community, and promote effective coping strategies and resilience. The counselors also work closely with community organizations to familiarize themselves with available resources to then refer and connect individuals and families to other necessary services.
Crisis counseling services for the Resilient Arizona Crisis Counseling Program will be provided by the following organizations:
Crisis Preparation and Recovery (CPR)
Empact – Suicide Prevention Center
Family Involvement Center (FIC)
La Frontera Center
The Guidance Center (TGC)
RI International
While counseling provider hours will vary, bilingual live-answer service on 2-1-1 is available from 8 a.m. to 8 p.m. seven days per week. On July 1, 2020, new funding from the Arizona Department of Economic Security will allow 24/7 operation of bilingual live-answer service on the statewide line.
Further information on the Resilient Arizona Crisis Counseling Program can be accessed through its website, www.resilientarizona.org.
"On behalf of CRN, I want to express our sincere gratitude to the Arizona Department of Health Services and the Arizona Health Care Cost Containment System for the opportunity to provide access to these potentially life-saving crisis counseling services to Arizona residents affected by the COVID-19 pandemic through 2-1-1," said Justin Chase, President/CEO of Crisis Response Network. "We are also very grateful to the crisis counseling providers with whom we are working in this important program."
This publication was made possible by Grant number FEMA-4524-DR-AZ. The views expressed in these materials do not necessarily reflect the official policies or contractual requirements of the Arizona Health Care Cost Containment System (AHCCCS), Department of Health and Human Services, and Department of Homeland Security; nor does mention of trade names, commercial practices, or organizations imply endorsement by the U.S. Government.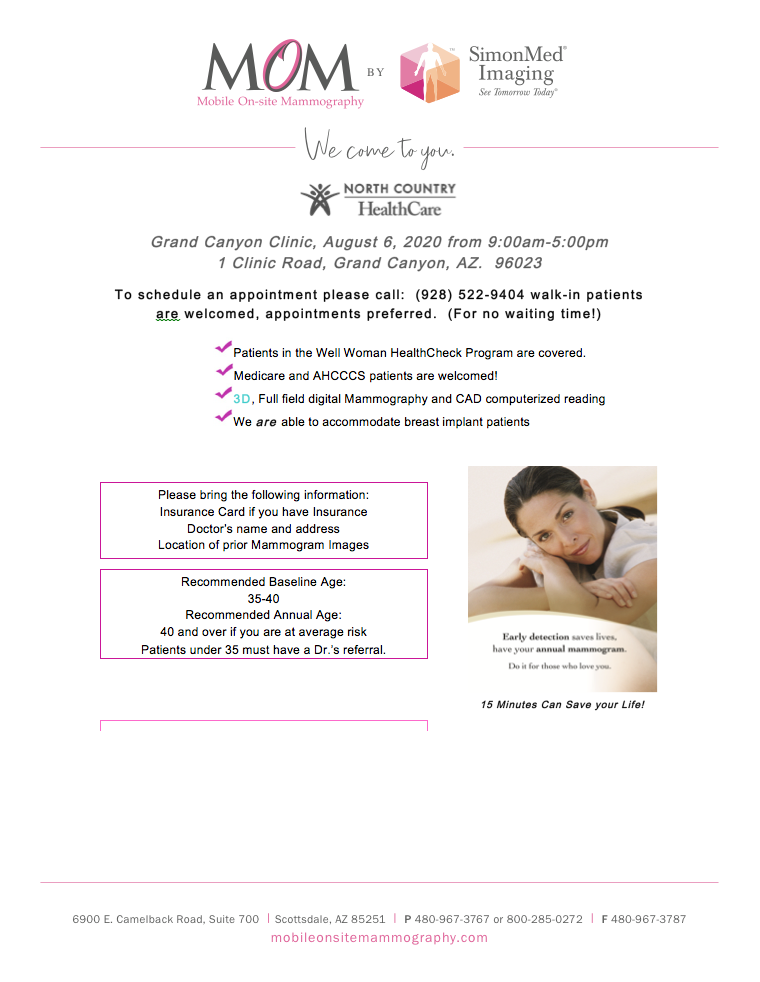 April 2020 Grand Canyon South Rim Chamber of Commerce Community events
For a full list of closures, CLICK HERE
See below for Announcements, Programs
Grand Canyon Community Support — Assessing services and needs during COVID-19
NPS has created a Community Task Force which meets daily. We are trying to gather information to better understand what needs you may have and to see if we can assist. Please take a moment to answer the following questions – not all questions are required but please make sure you submit at the bottom of the form so any answers you provide are included.
Click here from Community News compiled by the Grand South Rim Chamber of Commerce
Click here for Community resources compiled by the Grand South Rim Chamber of Commerce
There are many groups that are working to address community concerns – click here to learn more.
Follow CDC Guidelines on social distancing – maintain 6 feet between you and others. Getting out for walks/runs is ok if you follow the social distancing guidelines.
Do you or does someone you know need a little or a lot of assistance. Check out all of these resources.
Information below Courtesy Bonn Baudelaire — First Things First
As promised, here are our digital resources to share via Facebook and other social media platforms. Please feel free to forward this email (bbaudelaire@firstthingsfirst.org), copying and pasting into a new email should work as well!
First Things First Resources Specific to Coronavirus:
First Things First Articles, Videos and Resources on In-Home Learning Activities:
State Resources Specific to Coronavirus:
Town of Tusayan Mayor Sanderson proclamation for Tusayan 03-19-20 regarding COVID-19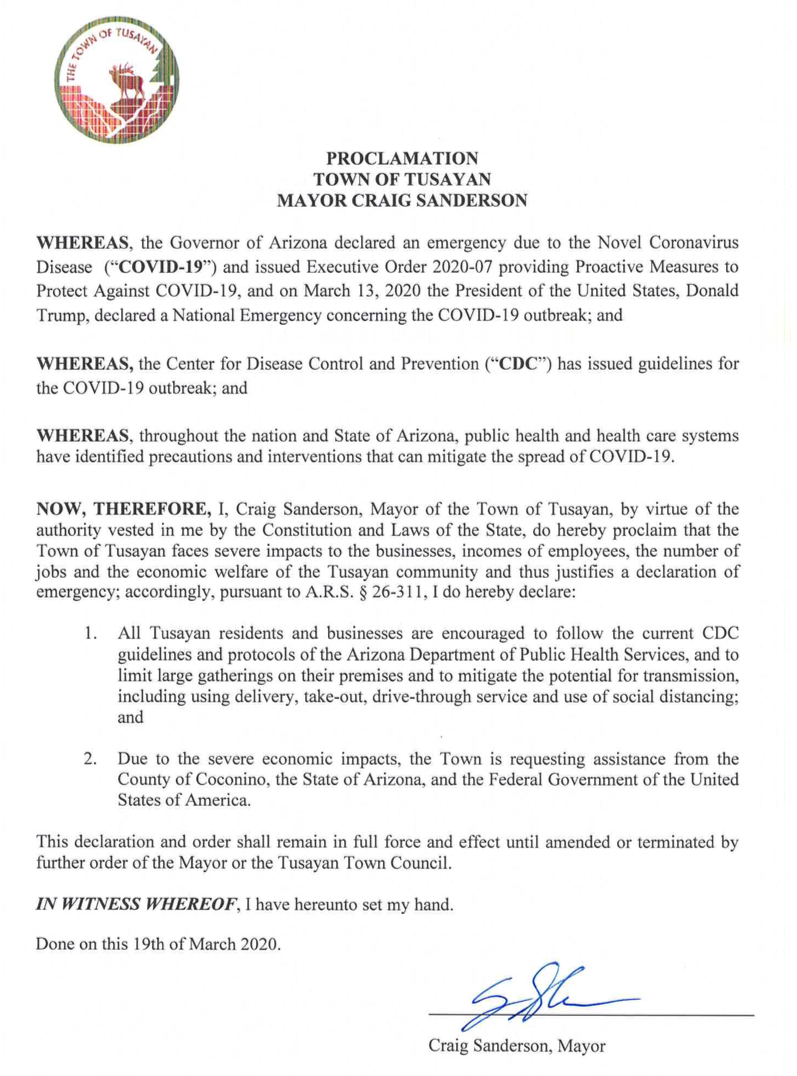 Grand Canyon Community Food Pantry is in need of volunteers. Please call Mike Scott 207 229 1228 to sign up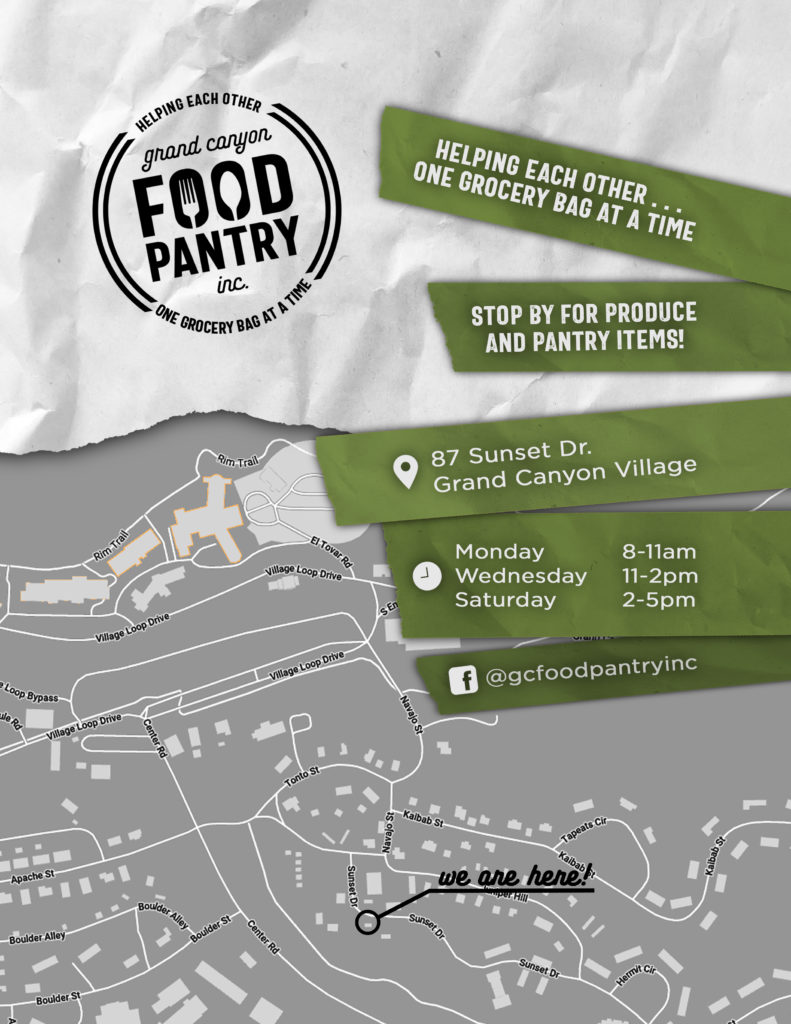 Valle-Tusayan Bookmobile stops
Please check with the the Flagstaff City — Coconino Public Libraries for the latest information on the Coconino County Bookmobile schedule.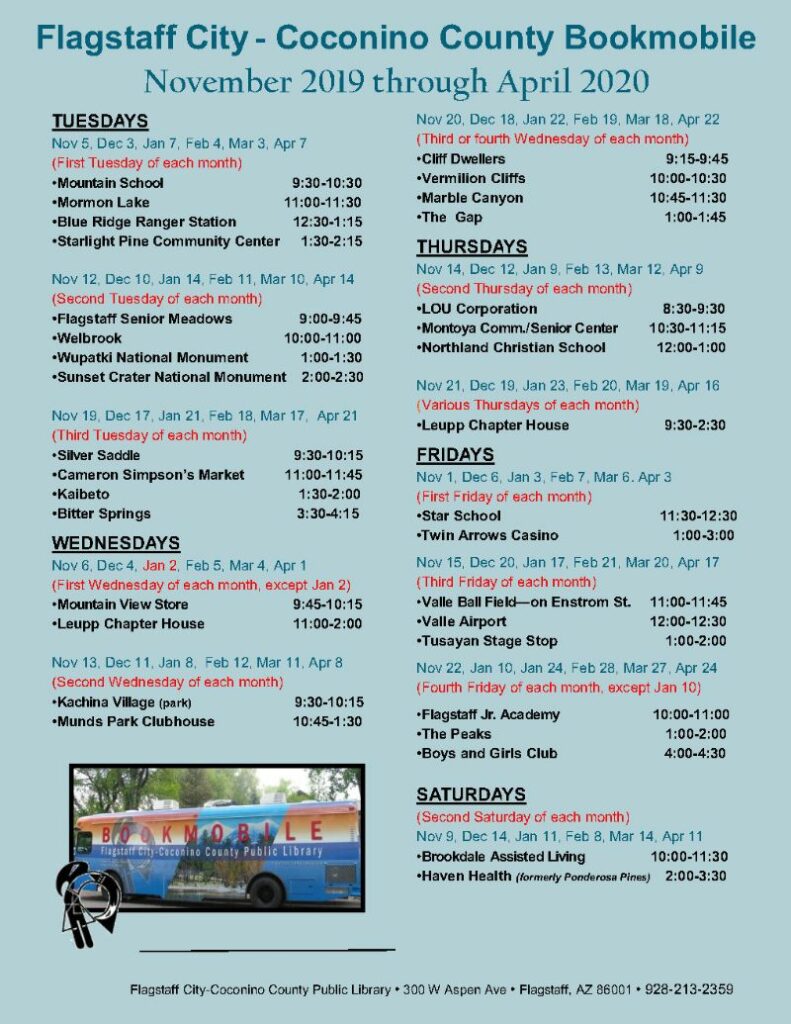 Announcements:
County Health prepares for COVID-19
Programs: