NACA Health Promotion encourages you to be active in learning about safe sun practice. Drink plenty of water, wear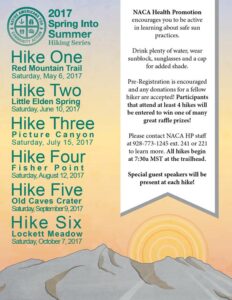 sunblock, sunglasses and a cap for added shade. Pre-Registration is encouraged and any donations for a fellow hiker are accepted! Participants that attend at least 4 hikes will be entered to win one of many great raffle prizes!
Please contact NACA HP staff at (928) 773-1245 ext. 241 or 221 to learn more. All hikes begin at 7:30am at the trailhead. Special guest speakers will be present at each hike!
Hike 1:
Red Mountain Trail
Saturday May 6
Hike 2:
Little Elden Spring
Saturday, June 10
Hike 3:
Picture Canyon
Saturday, July 15
Hike 4:
Fisher Point
Saturday, August 12
Hike 5:
Old Caves Crater
Saturday September 9
Hike 6:
Lockett Meadow
Saturday, October 7