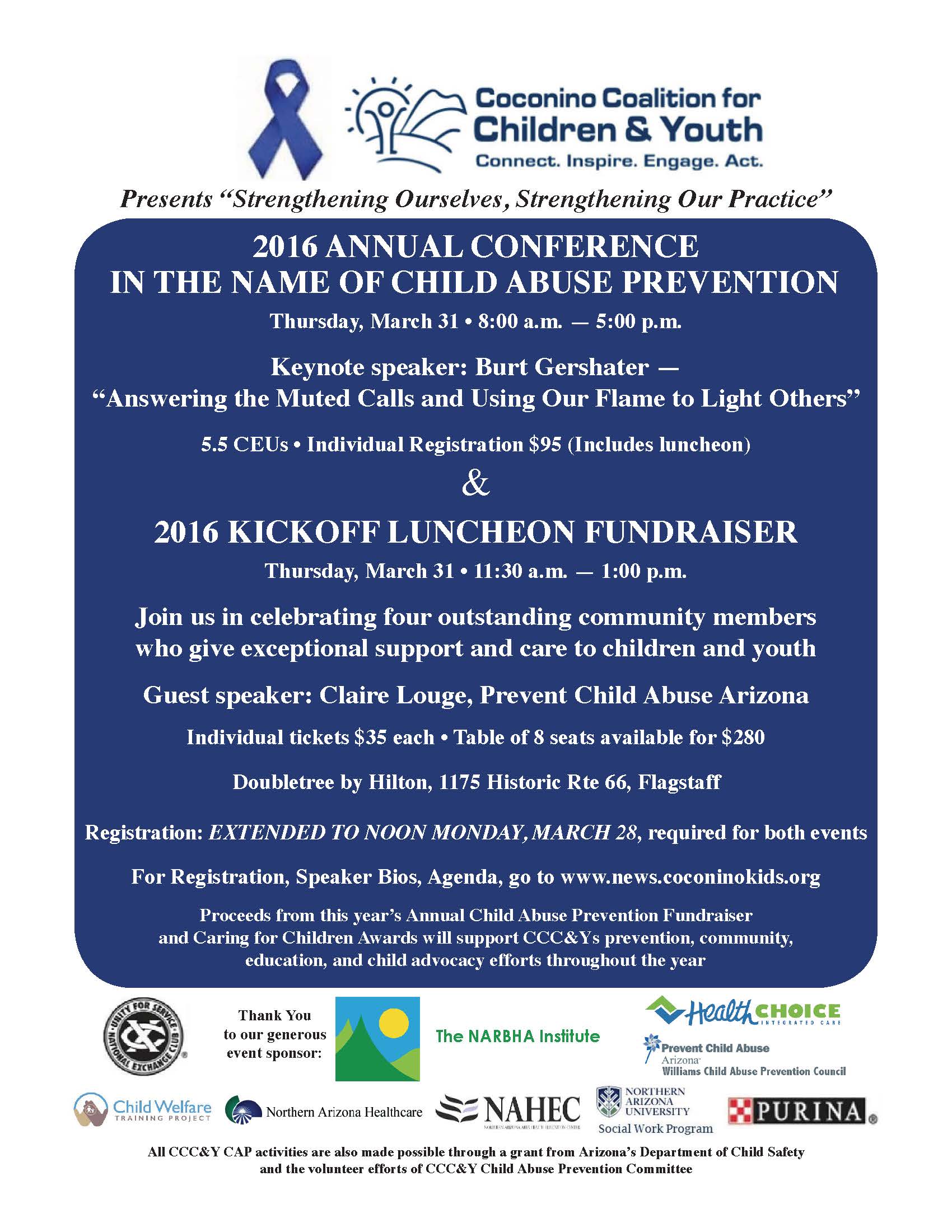 FLAGSTAFF — In recognition of April as Child Abuse Prevention Month, CCC&Y will present the 2016 Annual Educational Conference — "Strengthening Ourselves, Strengthening Our Practice," and the 2016 Annual Kickoff Luncheon Fundraiser, on Thursday, March 31 at the Doubletree by Hilton, 1175 Historic Rte. 66, Flagstaff.
Nationally recognized speaker and trainer Burt Gershater will provide the inspiring keynote address at the 2016 Annual Conference: "Answering the Muted Calls and Using Our Flame to Light Others."
"We all impact each other, whether we are doing it consciously or not. That is power," Gershater stated. "When we begin to accept that we really are more powerful than we ever imagined, we also realize it is our job to harness our power for the better."
Gershater is a Licensed Professional Counselor, who has led seminars and delivered keynote talks since the mid-1970s.
For nearly four decades, he has worked with corporate CEOs, company managers, nonprofit executives and teams, professionals from many different industries and top collegiate athletes.
Through his presentations, workshops and consulting services, Gershater draws upon his well-honed wisdom and insight to encourage deeply profound and life-altering transformations.
Breakout sessions at the conference include: Using Mindful Self-Compassion Practice, Strengthening Families Through the Protective Factors, How Our Work Affects Us and What We Can Do About It and Strengthening Families Through the Protective Factors – Community Cafe.
The conference and the annual luncheon will be combined this year in a single day to provide participants with the concise information they need to promote child abuse prevention.
The conference will be held from 8 a.m. to 5 p.m.
Conference registration includes 5.5 CEUs, completion certificate and lunch.
The 2016 Kickoff Luncheon Fundraiser will be held from 11:30 a.m. to 1 p.m., featuring the presentation of awards to four outstanding Coconino County community members who have given exceptional support and care to children and youth.
Claire Louge, training and outreach manager at Prevent Child Abuse Arizona, will be the luncheon's guest speaker.
"Prevention is the actions taken by people, communities, professionals and policy makers to ensure that a particular something doesn't happen. And the particular something that we're focused on is child abuse," Louge stated. "…We want to do everything we can to make sure families are strong and healthy, because when they are, our communities, our state — and most importantly, our children – thrive. The first step is awareness."
The conference is sponsored by the Flagstaff Exchange Club, the Northern Arizona Regional Behavioral Health Authority (NARBHA), the Child Welfare Training Project at NAU, the Northern Arizona Health Education Centers, the Northern Arizona University Social Work Program and Nestlé Purina. NARBHA is the luncheon sponsor.
About the Coconino Coalition for Children & Youth: CCC&Y works to ensure all children and youth in Coconino County have the resources and support they need to reach their full potential. For more than 40 years, CCC&Y has acted as the countywide communication link, bridging and supporting services for children and youth. Through advocacy, prevention, education and community partnership building, CCC&Y has built a strong, extensive network of families, providers, leaders and communities all striving to improve the lives of young people.
Proceeds from this year's Annual Child Abuse Prevention Fundraiser and Caring for Children Awards will support CCC&Y's prevention, community education and child advocacy efforts throughout the year.
Category: Child Welfare, Education, Events