Are you parenting a child 0-5 years old? You are invited to participate in TLC's Family Development Course!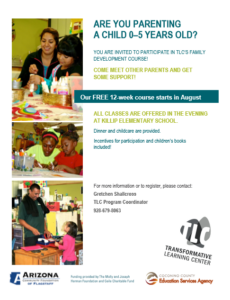 Come meet other parents and get some support!
Our FREE 12-week course starts in August, and all classes are offered in the evening, 5:30-7:30PM, at Killip Elementary School. Dinner and childcare are provided. Incentives for participation and children's books included!
For more information or to register, please contact:
Gretchen Shallcross
TLC Program Coordinator
(928) 679-8063
Category: Child Welfare, Educational Opportunities, Events, Programs, Resources