LATEST POSTS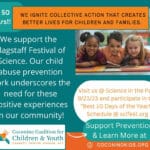 "The Mammoth World of Science" is the theme of this year's Flagstaff Festival of Science (Sept. 22 through Oct. 1, 2023).
This year's theme has been designed to showcase the fascinating research and scientific discovery of Beth Shapiro, PhD, who will give the W. L. Gore & Associates Keynote Presentation from 7 to 9 p.m. Friday, Sept. 22 at the Ardrey Auditorium at Northern Arizona University, 1115 Knoles Drive, Flagstaff.
Shapiro, a pioneer and global leader in the high-profile field of ancient DNA, will share her expertise on the science of de-extinction.
Click here to see ticket availability. All Festival events are FREE.